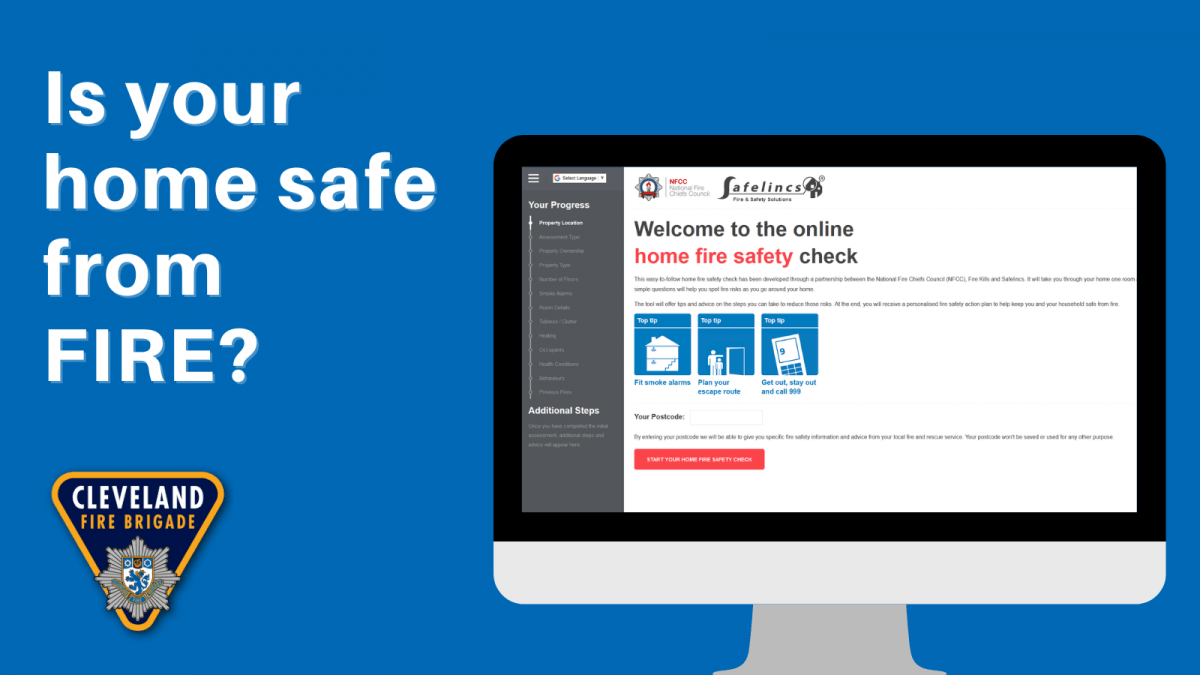 Residents can make sure they are safe in their homes with our newly launched online Home Fire Safety Check tool.
The easy-to-follow online tool takes you around your home with simple questions that help spot any fire risks and how they can be radically reduced. At the end, you will receive a personalised fire safety action plan to help keep you and your household safe from fire.
The Safelincs tool is now available via the Cleveland Fire Brigade website here: https://www.safelincs.co.uk/hfsc/?ref=CFB
It only takes up to 15 minutes to complete. The subjects range from working smoke alarms, distractions, cooking, and electrical appliances to escape routes in the event of a fire. The innovative tool offers help and advice and will automatically trigger a visit from Cleveland Fire Brigade if a person is identified as being at higher risk.
Figures show you are four times more likely to die in a fire if your home does not have working smoke alarms.
Robin Turnbull, Area Manager – Prevention, Protection & Engagement said: "By putting aside 15 of your day could potentially save your life and those of family and friends, as well as protecting your property from serious damage. It is really simple and quick, and you will be assured your home is safe and be given useful tips to reduce risks. We highly recommend all residents to complete the check as soon as possible.
Our Safer Homes visits are a great way of providing practical help and advice, raising fire safety awareness and getting support. Prevention work is at the heart of our work, and we are always here to help".
The tool has been developed through a partnership between the National Fire Chiefs Council, Fire Kills and Safelincs (Fire and Safety Solutions).
Cleveland Fire Brigade carry out thousands of Safer Homes Visits a year where crews come to your home and check everything is safe and fit free smoke alarms if needed. In 2021/22 crews and prevention staff completed approximately 21,000 home safety visits to protect our local communities.
The safety visits can unlock vital safety help, advice, and solutions and, where needed, signpost help from our partner organisations.
For fire safety advice, or if you do not have working smoke alarms in your home, please call 01429 872311.
You can complete a free online home fire safety check here or call 01429 874063 to book a physical visit.
For more safety tips and advice on how to stay safe in your home click here.