Deliberate Fires (Arson)
Over 80% of Cleveland Fire Brigade fire calls are to deliberate fires. The main issues are rubbish/refuse, grass fires and vehicle fires. We need your help, we all want to take pride in our neighbourhoods and our communities need to work together to tackle arson.
You can do your bit by securing your wheelie bin and rubbish and putting out and bringing in bins as soon as possible after collections. Store your wheelie bin securely, and if possible, away from property.
Report issues anonymously to CrimeStoppers on 0800 555 111
Anti-Social behaviour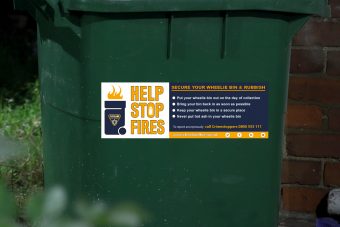 Can lead to deliberate fire setting. If you are experiencing repeated anti-social behaviour (more than 3 incidents in 6 months) you can contact your council to activate COMMUNITY TRIGGER for more information click on your council – Hartlepool, Middlesbrough, Stockton Redcar & Cleveland.
Domestic waste – don't burn it
It is ILLEGAL to burn household rubbish that contains plastic, foam, paint, furniture, tyres etc. It is also an OFFENCE to dispose of domestic waste if it will cause pollution to human health or the environment. Recycle or use the council bulky household waste services.
Useful links
• Use Streetlink to report rough sleepers and find them local support
• More advice to Stop Arson