District Manager
Stephen Graham
Station Details
South Road, Norton, Stockton, TS20 2SU
stnb@clevelandfire.gov.uk
01642 366180
Stockton Fire Station provides fire and rescue services to the community on a 24/7 basis through four watches of whole-time fire fighters plus retained/on-call firefighters working at the station. It is the Community Hub for the Stockton District. Our Hubs are where our community safety staff and firefighters work together to provide a one-stop-shop of all our services. This means our teams are working for the community, in the heart of the community.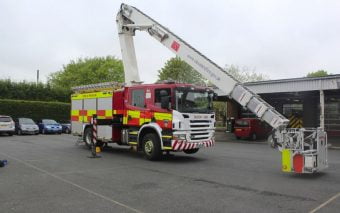 As well as our excellent emergency response service, Hub staff provide a number of Brigade community services including:
Advocate services
Community facilities for hire
24/7 emergency response
On-Call drill night is Thursday 6.00pm-9.00pm – book by contacting Kevin Tyerman on 07894 405649
Interested in becoming an On-Call Firefighter?
Community facilities for hire
Members of the community are able to hire the community room at the station for community activities. Room hire is £8.74 per hour (plus VAT). To book a room call 01642 366180 or email stnb@clevelandfire.gov.uk
Location