Looking for more?
Opportunity • Belonging • Community
Protect your local community – become a On-Call Firefighter
On-Call firefighters are members of the community who are paid to provide an on-call service responding to emergency calls in the same way as full-time firefighters, using the same appliances and equipment, but who are 'on call' rather than employed full-time and based at a fire station.
On-Call firefighters have to respond and arrive within five minutes of the station (see Your Area for list of stations) during their hours of declared availability. They respond via a pager system. No previous experience is required as comprehensive training is provided.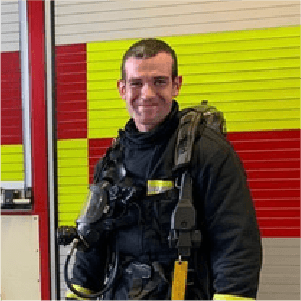 Tim Taylor
Teacher & On-Call Firefighter
"The weekly drill nights are always a great way to conduct some enjoyable and physical training whilst also meeting and developing relationships with like-minded people in the local area. I would fully recommend becoming a retained firefighter to anyone with drive, ambition and a desire to serve their community".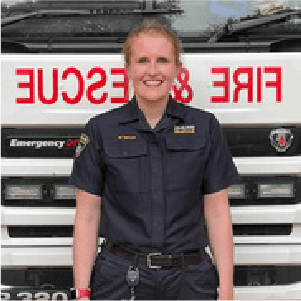 Niki Taylor
Embalmer & On-Call Firefighter
"I enjoy being an on call firefighter as this is very different to my primary job role. During the day I care for the deceased within our community, while on call I protect the community and work as part of a team at Stockton Community Fire Station " .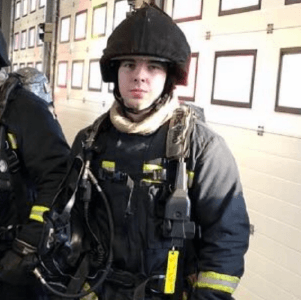 Daniel Wright
Teaching Assistant & On-Call Firefighter
"It is chance to help your local community. I have a two-year-old son and it is great to know I am doing something to help protect local people and local families".
To apply to be an On-Call Firefighter you must:
Live within, and be able to respond and arrive within 5 minutes of the Fire Station
Provide cover on a rotational call-out basis to the Fire Station you will be situated at
Be 18 years old at the start of the training course
Have a good all round level of fitness
Meet Fire & Rescue Services medical standards (eyesight, colour vision, hearing, lung function)
Be eligible to work in the UK
It's desirable for you to:
Hold a full UK car driving licence
Hold an LGV driving licence
Please note a candidate may not be currently employed as a warranted Police Officer.
We would particularly welcome applications from those living close to the Headland Community Fire Station, Yarm Community Fire Station and Redcar Community Fire Station visit the pages to see if you live in the right area to apply.
Dates to remember:
Click a heading for more information
To be complete by 12 November 2022
Course Commences
20 February 2023 evenings, weekends and 13 fixed days over a two week period for Breathing Apparatus Training
Cleveland Fire Brigade employs individuals from a range of diverse backgrounds. We regard ourselves as an employer that promotes equality and values diversity, we would particularly welcome applications from women and those from a minority ethnic background.
You can apply at www.northeastjobs.org.uk
Any questions? Contact our HR Department on 01429 874021 or via recruitment@clevelandfire.gov.uk
Useful links