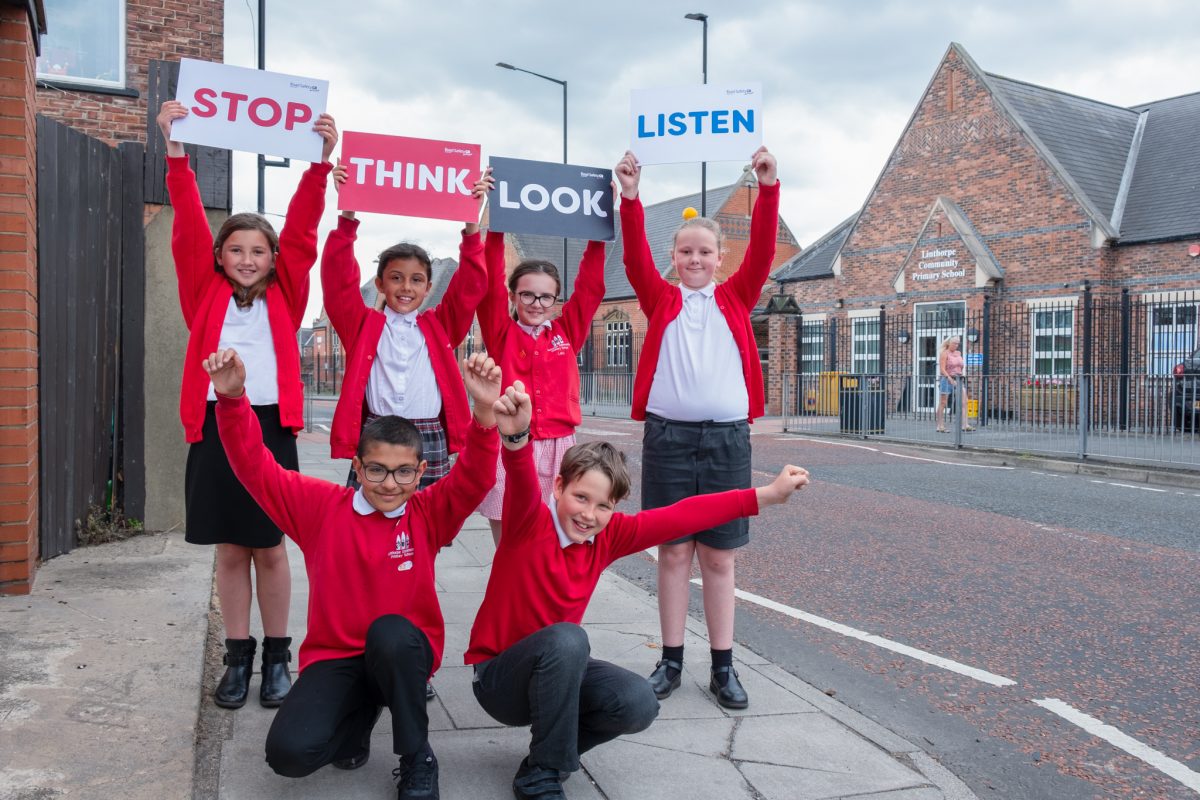 Cleveland Fire Brigade are joining local youngsters to urge people to take better care on the roads. This comes after latest figures showed that more than 2,600 children were injured or killed on North East roads in the past five years.
Pupils at Linthorpe Community Primary School in Middlesbrough have shared video road safety messages for both pedestrians and motorists as part of Road Safety GB North East's (RSGB NE) summer campaign to keep children safe.
They are urging drivers to slow down and to drive below the limit, particularly in built up and residential areas, to put phones out of sight, and to watch for people stepping out.
And the pupils have also called on youngsters to take extra care around the roads, urging them to stop, look, listen, and think before stepping out in a bid to reduce road casualties this summer.
Their call comes at a time when child casualty numbers typically increase through the middle of the year, between May and September, with numbers peaking in July, with half of children injured or killed being aged between 11 and 15.
And the latest figures show that Middlesbrough has the highest rate of child casualties in the region given its child population size, with 65.43 cases for every 10,000 children.
Teacher Paul Fussey, the personal, social, health and economic (PSHE) lead at the school, said the children were eager to share their road safety messages as part of the education campaign.
"Pedestrian safety is important to us at Linthorpe Community Primary School because the safety and wellbeing of our pupils and staff is at the heart of all we do," said Paul.
"We would like all drivers to put their mobile phones in the glove compartment and to drive with full awareness. Our pupils have some strong feelings and intelligent thoughts on road safety, so we were proud of them for sharing them and hope they help to reduce casualty figures on the roads."
Pupil Lacey, ten, said: "Drivers shouldn't use their phones while driving because it can be very dangerous. It can put lots of lives at risk."
And Owais, nine, added: "If a driver is distracted by their phone, it could cause a car crash and seriously hurt them or the children."
Peter Slater, Chair of RSGB NE, said in the five years to 2021, eight children were killed on the region's roads. He said during that time there had been a 25 percent decrease in overall child casualties between 2017 and 2021, although the pandemic could have contributed to the drop, but there was no fall in the number of severe and fatal collisions.
In 2021, however, no children were killed on North East roads, and Peter said he was keen to see that continue.
"At this time of year, children and young people are out and about more and we typically see the number of collisions rise where child pedestrians or cyclists are injured," said Peter.
"Nobody goes out intending to injure a child, but it can so easily happen if you're driving too fast or you're distracted and not paying attention to the road.
"The majority of collisions occur simply because either the child or the adult is not looking properly.
"If you're driving, slow down and be prepared for children stepping out. Remember, it can happen to you, and nobody wants that on their conscience.
"And if you're a parent, talk to your children about road safety. It could just save their life."
The latest figures from RSGB NE show that boys account for 62 percent of total child casualties in the region, but this majority is even more pronounced when it comes to fatal and serious injuries, where boys make up 70 percent of victims.
Older children are thought to be more at risk due to a number of factors, including being distracted by friends, looking at their phones, and simply running and stepping out without looking. Younger children are less at risk as they tend to be supervised by parents.
Andrew Bright, Learn & Live Co-ordinator at Cleveland Fire Brigade, said the faster cars were travelling, the less likely pedestrians were to survive a collision.
He said: "When you're driving, ask yourself 'if a child steps out in front of me now, could I stop in time?'
"Remember, if you hit a pedestrian, they have a much greater chance of surviving if your speed is lower, so make sure you are driving below the limit and for the conditions.
"If you hit a pedestrian at 40mph, there is a 90 percent chance they will be killed. At 20mph, there is a 97 percent chance they will survive. What greater reason is there to slow down and to look out for others on the road?"
Andy Corcoran, Chair of the Cleveland Strategic Road Safety Partnership, said adults had a responsibility to look after children on the roads, whether they were pedestrians, cyclists, or passengers in their cars.
'The statistics show that in summertime, with more people out enjoying the good weather, there is an increase in child casualties in our region. As the school holidays begin, it is a timely reminder to ensure that drivers slow down and ensure that they are paying attention to the road and other road users to reduce the risk of injury and collisions. Please look out for each other."
The table below shows the annual rate of child casualties per 10,000 child population, by local authority, between 2017 and 2021. Middlesbrough has the highest rate, followed by Gateshead and Sunderland.
| | | | | |
| --- | --- | --- | --- | --- |
| Local Authority | Fatal | Serious | Slight | Total |
| County Durham | 0.11 | 11.72 | 43.06 | 54.89 |
| Darlington | 0.00 | 10.93 | 44.23 | 55.16 |
| Gateshead | 0.00 | 9.72 | 51.19 | 60.91 |
| Hartlepool | 0.56 | 10.56 | 45.01 | 56.13 |
| Middlesbrough | 0.00 | 9.35 | 56.08 | 65.43 |
| Newcastle upon Tyne | 0.38 | 9.23 | 42.37 | 51.97 |
| North Tyneside | 0.00 | 11.68 | 37.97 | 49.66 |
| Northumberland | 0.00 | 11.52 | 40.91 | 52.43 |
| Redcar and Cleveland | 0.81 | 10.52 | 36.43 | 47.76 |
| South Tyneside | 0.00 | 9.23 | 41.73 | 50.96 |
| Stockton-on-Tees | 0.25 | 8.37 | 39.33 | 47.96 |
| Sunderland | 0.20 | 11.21 | 49.32 | 60.74 |
| Total | 0.17 | 10.52 | 43.80 | 54.48 |
For more information about Road Safety GB North East, road safety advice and campaigns, go to https://www.lookoutroadsafety.co.uk.