Cleveland Fire Brigade has supported local litter-picking groups following an appeal for bright ideas to tackle arson.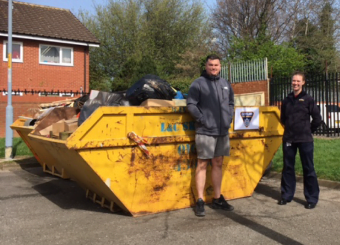 Skips and equipment were provided to get rubbish off the streets and remove potential targets for would-be fire setters. The equivalent of nearly 1,000 bags of rubbish were put in the skips.
Deliberate nuisance fires can divert resources away from emergencies where lives may be at risk.
Latest figures show there were just over 2,500 nuisance fires in the Brigade area from April 2020 to the end of January this year.
The "lightbulb" moment was one of the bright ideas received. The Brigade worked with Middlesbrough and Redcar and Cleveland Councils and L and C Skip Hire Limited to put the skips in local areas for one day. They were available for litter, household and garden waste.
Steve Johnson, Area Manager, Prevention, Protection and Engagement, said: "Removing litter removes free fuel for potential arsonists and helps to reduce nuisance fires.
"During lockdown restriction more individuals and community groups used their exercise periods to improve local areas by litter picking on their daily walks and we applaud their work and PRIDE in their local communities. We can clearly see a difference on footpaths, verges and local areas.
"As a fire service our deliberate fires are down in many areas, I have no doubt that the reduction of litter and waste has contributed to the reduction in fires and blight on local areas. On behalf of everyone at Cleveland Fire Brigade I would like to sincerely thank everyone who is contributing to cleaning up our community areas and making such a big difference. We have donated a range of equipment to a number of different litter picking groups across Cleveland to assist them with their activities."
The Brigade has also shared information on apps such as Fixmystreet which can be used to report issues such as broken street lights or fly-tipping and the what3words app which pinpoints location and makes it easier to report problems, especially in rural areas.
You can help make neighbourhoods safer and cleaner by:
Putting wheelie bins out only on the day if collection and bring them in as soon as possible
Storing bins and refuse securely and away from property
cutting back hedges that border footpaths
Clearing rubbish and tidying boundaries on to public footpaths to aid visibility
Disposing of bulky items via a registered service (check: www.gov.uk/environment-agency)
reporting issues like broken street lights
Reporting issues such as fly-tipping in your area to www.fixmystreet.com or your local council
Reporting incidents anonymously to Crimestoppers 0800 555 111