Cleveland Fire Brigade – highlighted for the quick response to the Covid crisis – has continued to provide much needed support for local communities. The latest help has seen firefighters and staff step forward to provide more than 100 volunteers to vaccination centres, ranging from general stewarding to administering vaccinations.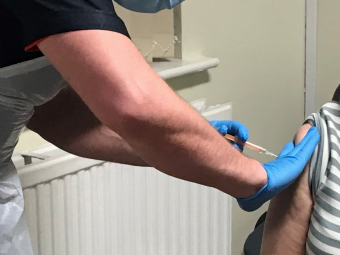 Crew Manager Charlie Cook (Thornaby Fire Station) who gave vaccinations at Ingleby Barwick Medical Centre, said: "Today was all about giving the second Pfizer jab to the first group, some who were aged 90 and over. We were very well received and they were thrilled to be getting the jab from firefighters. It was great feeling to be able to help.
Stacy Tait from the Brigade's Health and Safety team, who volunteered at the vaccination centre at Redcar Primary Care Hospital, said: "It was a really good experience. It's great to see members of the public who were just happy to be there. I was able to provide reassurance and help elderly people in and out of the building and back to their cars. It was very enjoyable."
The work follows over a year of adapting ways of working to support communities, which has included delivering food parcels to the most vulnerable, supporting the delivery of training to over 1,000 care home staff in infection prevention and control, delivering vital PPE equipment and prescriptions, shopping for the lonely and isolated and making thousands of fire safety phone calls and visits to make sure people are safe in their homes.
During the series of lockdowns and unable to get face to face access with businesses and residents, the Brigade rapidly innovated by going virtual. This included on-line fire safety sessions for businesses, virtual tours of premises to make sure care homes and other organisations comply with the latest regulations and quick online Safer Homes check for people to complete to make sure their home is safe. Follow-up actions, such as installing free smoke alarms, may follow.
The Brigade also partnered with Middlesbrough Council to deliver almost 450 food parcels for those most in need, providing support to more than 300 households, 550 adults and 300 children. In partnership with local charity NiteLight, hygiene bags were added to the parcels. As part of the Hartlepool Befriending scheme delivered by the Brigade, isolated and lonely people have been supported throughout the crisis.
And Loftus Community Fire Station set-up this month as a lateral flow testing centre for the local community. Watch Manager Chris Marsay said: "Loftus is a community station and it has been really good to open the doors and provide support during the current crisis."
Chief Fire Officer Ian Hayton said: "I am immensely proud that Cleveland Fire Brigade has been able to play a hugely important part in keeping people safe during the pandemic. We are all in this together and we have been ready, willing and able to change the way we work and go that extra mile to support our partners and local communities."
Independent inspectors highlighted how the Brigade responded effectively and quickly at the start of the Covid-19 crisis.
Facts and figures: Over 900 prescriptions and oximeters delivered; 41 PPE deliveries to hospitals; 350 tests taken at Parkway Shopping Centre mass testing site; over 1,500 hours of marshalling at vaccination sites.