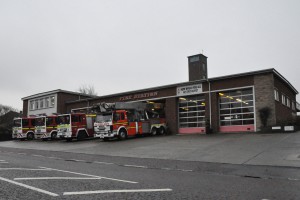 Stockton Fire Station provides fire and rescue services to the community on a 24/7 basis through 4 watches of whole-time fire fighters working on the station. Lying in the boundaries of Stockton Borough Council it covers sixteen wards ranging from socially deprived areas up to high-end executive housing in an urban setting.  A growing multi-cultural community makes the station's operating area an increasingly diverse one.
The station has large scale industrial and commercial outlets and a high security prison on the Portrack Industrial Estate. It also covers a town centre surrounded by 7 high-rise dwelllings and some residential care homes. There is also a large university hospital, a multi-site college of further education and large university site. Its operating area is split by two busy arterial roads namely the A19 and A66.
Stockton does have a community room that is available to local residents and community groups. It actively supports a number of youth and community initiatives including "Try Rugby" and the Fire Cadet scheme.
Directions