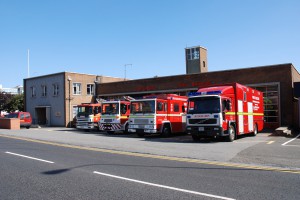 Stranton operates a 24/7 service using whole time (firefighters working a 24/7 shift pattern on the station). They work in 4 watches.
Situated in the Stranton Ward opposite the old Cameron's Brewery in Hartlepool, the station provides services to 17 local wards. The majority of its operating area is urban ranging from low cost housing to higher quality executive housing.
The station's operating area also covers a number of retail, industrial, and commercial units as well as University Hospital, Middleton Grange Shopping Centre, a football ground, a multiplex cinema, Hartlepool College of Further Education and Cleveland College of Art and Design. It also services a busy marina area berthing nearly 400 boats and has important historical heritage to protect.
The station oversees two of the busiest roads in the Teesside area, the A19 and the town's main access road, the A689.
Directions