Cleveland Fire Brigade volunteers have provided more than 5,000 hours of support at vaccination sites across the area. This includes giving vaccines, marshalling and support roles.
The help has been provided at 13 different sites, including the Riverside Stadium, the Open Door Centre for asylum seekers and the homeless, surgeries and more recently the Public Health England vaccination bus, 'Melissa'.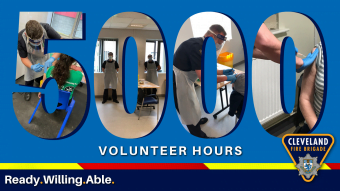 The Brigade has over 100 volunteers, including firefighters and staff from various departments, and 30 fully trained vaccinators. In the last seven days alone volunteers have provided more than over 500 hours of support across all roles. This includes 100 hours vaccinating and more than 1,000 people vaccinated.
Support started at the end of January with a vaccination roll out at Redcar Hospital. It has since included surgeries at Thorntree in Middlesbrough, Thornaby and Barwick Medical Centre in Ingleby Barwick, and the Queens Park Medical Centre in Stockton.
Brigade staff have been able to interact with our local communities at the vaccination centres and also provided home and road safety advice. Up to 500 people a day are seen at the mass vaccination centre at the Riverside.
In addition, Loftus Community Fire Station opened as an asymptomatic testing centre in March to identify people who may be positive but have no symptoms.
Chief Fire Officer, Ian Hayton, said: "This is a remarkable milestone. I am immensely proud that Cleveland Fire Brigade has been able to play a hugely important part in keeping people safe during the pandemic. We are all in this together and we have been ready, willing and able to go that extra mile to support our partners and local communities. I know this work will continue with even more volunteers stepping forward. We have shown we are a 'can do" service.".
Independent inspectors recently highlighted Cleveland Fire Brigade for responding effectively as the Coved crisis developed. Work carried out by the Brigade in the early stages of the pandemic included delivering vital PPE equipment, sending food parcels to the vulnerable and providing training for care home staff in infection control.
The Brigade also offers online home fire safety checks for residents and works with businesses on virtual tours to ensure they meet fire regulations.