Volunteer Opportunities
Thank you for your interest in volunteering for our Befriending Service for Hartlepool area.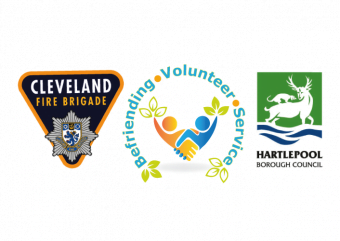 This is a fantastic opportunity to give something back to your community and support people who may struggle to access social groups on their own to build confidence and get out and about. It's also a chance for you to use your experience to support others, build on your skills and become part of our team of volunteers.
Volunteers are vital to the successful delivery of our befriending service. We are committed to providing an excellent volunteer experience. We need you to help us reach our vision of Safer, Stronger Communities across Cleveland.
The scheme is completely free and is funded by Hartlepool Borough Council and delivered by Cleveland Fire Brigade (CFB).
Why is CFB delivering this service?
Research shows that loneliness and isolation can result in a decline in an individual's physical and mental health, which can result in risks to the individual's safety such as the inability to self-rescue in the case of a fire, if we can reduce loneliness and isolation, we can increase safety and reduce risk.
We also have accessible community fire stations at the heart of our communities. And to support the befriending service, we will run a series of activities at our stations for our clients and volunteers to attend and provide safety advice.
What is the befriending service?
This service is to support those who have little or no contact from family and friends and live alone in Hartlepool. It intends to tackle loneliness and isolation. The service provides clients with a matched volunteer who will build a relationship with them.
Initially this may be visiting them in their home for a friendly chat over a cup of tea and will hopefully build to accompanying clients on short walks, outings or to attend local social groups. With the intention of building the client's confidence to participate in these activities unaccompanied and perhaps eventually become volunteers themselves.
Our Values
Protect
Respect
Innovation
Doing the Right Thing – Being Professional
Engagement with Others
Our expectations of YOU
To volunteer in line with our organisational values and behaviours
To carry out your volunteer role in line with the training provided by CFB
To follow CFB policies and procedures
To be reliable, professional and create a supportive relationship with your matched client
To report any concerns immediately to the Service Co-ordinator
To respect the rights and values of your clients, even if they differ to your own
To understand that your volunteer role places you in a position of trust with our clients and to treat that trust with respect
To return any loaned equipment and uniform when you end your volunteer role
Support you can expect from US
Full induction and necessary training
Supervision and support from the Service Co-ordinator and wider CFB colleague
Issue of mobile phone, ID badge and uniform
Robust safeguarding policies and procedures with officers on duty 24/7
Reimbursement of properly incurred out of pocket expenses
Training and development opportunities
A reference for any future opportunities
Provision of approved and authorised insurance to cover
Where do I sign up?
You can complete the registration form or request a printed version by emailing befriending@clevelandfire.gov.uk and post it to:
Befriending Service Co-Ordinator
Cleveland Brigade
Training & Administration Hub
Queens Meadow Business Park
Hartlepool
TS25 5TH
For more information you can call us on 01429 872311.