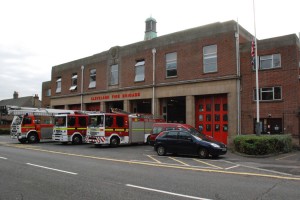 Middlesbrough Fire Station provides fire and rescue services to over half of Middlesbrough's 23 Wards (12 out of 23).
Within its operating area are several major shopping developments, the campus of the Teesside University, Middlesbrough College and one of the biggest multi-site hospitals in the UK.
Most of its operating area is urban ranging from very low cost housing to very affluent homes.
The fire station also provides cover to a busy and extensive road and rail network carrying large numbers of commuters and a wide variety of goods. Some of these goods pose special risks, as Middlesbrough has one of the UK's highest volumes of road tanker movements transporting hazardous goods between the area's chemical plants.
Further risks come from having both heavy and light industries situated close to a dense urban dwellings. Finally public entertainment premises such as a football stadium, multiscreen cinema, open air parks and athletic's stadium along with nursing, residential and independent living accommodation all add their own unique risks.
Directions