The United Kingdom might now have the safest roads in the European Union, but the number of people dying or being injured on our roads is still too high.
In 2012/13 there were 10 people killed and 130 people seriously injured on roads across Cleveland.
Road traffic collisions are preventable, as many of them are caused by people driving:
too fast or overtaking dangerously
whilst using a mobile
under the influence of alcohol/drugs
whilst tired
without using a seatbelt
Winter Driving Safety
Throughout November we will be helping you stay safe on the roads this Winter.
Cleveland fire stations are holding free and quick multi-point vehicle checks to help motorists be safe.
The two-minute drive-thru includes tyres, lights, wipers, screen wash top ups and a free ice-scraper with road safety reminders.
Winter checks are taking place on:
Thursday 26 November : Thornaby fire station ((10am to 5pm).
Saturday 28 November: Coulby Newham fire station (10am to 4pm)
You can also view and download safety information below:
Tyre Safety is important all year round, please read the information below:
Drink Driving – Stay safe and legal this Christmas!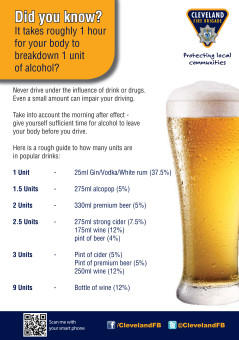 Our message is Stay Safe and Legal this Christmas, think about the consequences  and don't take the risk of driving under the influence or traveling in a vehicle with a driver who has consumed alcohol.
Beware the morning after – You could be over the legal limit many hours after you last drink, even if it's the 'morning after'. Sleep, coffee and cold showers don't help to sober up – time is the only way to get alcohol out of your system.
If your planning to drink alcohol, plan to get home without driving – Options include agreeing on a designated driver, saving a taxi number to your phone, or finding out about public transport routes and times before you go out.
Don't offer an alcoholic drink to someone you know is planning to drive – Even if you're not driving, you can help reduce the number of people who are killed and injured every year by drink driving.
Don't accept a lift from a driver you know has drunk alcohol.
We are a member of the Cleveland Road Safety Partnership and we work together to educate our communities to make our roads safer.
You can view some road safety campaign videos below.
Useful Information