Firefighters are urging the public not to make it a rubbish build-up to bonfire night and remove targets for would-be arsonists. This includes fly-tipping, keeping wheelie bins secure and not stockpiling rubbish or wood in gardens.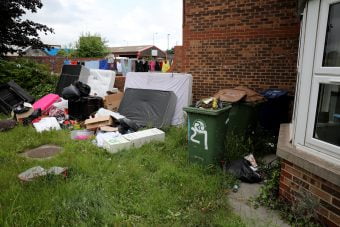 Cleveland Fire Brigade is reminding householders that your rubbish is your responsibility. Many householders are not aware that you have a legal responsibility to adequately check that household waste is removed by a licensed waste carrier.
If you do not do this and waste is fly-tipped (dumped) YOU the householder could be traced and fined. You can check that a waste carrier is registered on the Environment Agency's website www.gov.uk/enviroment-agency or call 08708 506 506.
Do not leave old appliances, furniture, carpets, toys and other items out on the street without plans for safe removal, because if they are picked up and then fly-tipped you are still responsible.
Fly-tipping is a serious offence, damaging the environment and a potential target for people setting deliberate fires. Recent figures show that two-thirds of all fly-tipping is made up of household waste.
Ian Hayton, Chief Fire Officer, said :: "We are asking everyone to be sensible and not make it easier for the minority intent on anti-social behaviour.
"The last thing we need during a pandemic is an extra strain on emergency services and the NHS".
You can report fly-tipping to your council or using www.fixmystreet.com which is really useful in pinpointing the location to aid swift removal. You can report issues such as illegal bonfires anonymously to Crimestoppers on 0800 555 111."
Householders should also make sure their wheelie bins are secure and remove any build up of rubbish that may be a target for an arsonist or could be hit by a stray firework.
With organised firework displays cancelled this year because of the coronavirus crisis, the Brigade is asking people to Be Smart, Be Safe and Be Sensible during the fireworks period and avoid potential dangerous and unnecessary home displays.
Cleveland Fire Brigade is working closely with local councils to tackle rubbish and fly-tipping. Local councils can arrange bulky waste collections and have details of household waste sites. There are also a range of organisations and charities that collect household items to recycle.
Middlesbrough Mayor Andy Preston said: "Fly-tippers are selfish and thoughtless at the best of times – and these aren't the best of times.Their actions blight communities and can even put lives at risk, and we won't tolerate them.
"We will work with all our partners to stamp this out, and those responsible can expect to be hit with a fine and a criminal record."