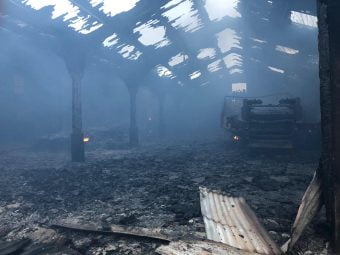 Following a large fire at a farm in Hart Village in Hartlepool, Cleveland Fire Brigade is calling for public support to tackle deliberate fires.
Despite the current government guidance on staying at home to help alleviate the Coronavirus pandemic, the Brigade is still attending incidents of mindless arson.
Steve Johnson, Area Manager Prevention said "It is so disappointing to see that at a time when we all need to be coming together to support one another we still have people committing crimes and ruining our local communities.
We need the public's support, now more than ever. Our resources need to be available to respond to any fires in the home and support with humanitarian aid for vulnerable people in our communities.
We are pleading with the public to support us to remove ARSON from our neighbourhoods. This is an ideal opportunity for communities to get behind us on the zero tolerance to arsonists. We all need to work together to tackle arson – it is everyone's problem."
The public can help tackle arson by eliminating potential sources of fuel by:
Putting wheelie bins out only on the day if collection and bring them in as soon as possible
Storing bins and refuse securely and away from property
Report issues such as fly-tipping in your area to www.fixmystreet.com
Report incidents anonymously to Crimestoppers 0800 555 111
Earlier this month Cleveland Fire Brigade launched its Tackling Arson Together campaign which identified the staggering estimated cost of arson to the Cleveland economy of nearly £18m in 2018/19.
Latest figures show there were 3,656 deliberate fires across Cleveland in 2018/19, costing the local communities £17.9m. The fires were predominately rubbish and refuse, grassland and vehicles.
The costs of deliberate fires include Brigade call-outs and attendance, and costs to the wider community through damage, repairs, loss of business & productivity, insurance and council funding. (source Office of Deputy Prime Minister Economic Cost of Fire Estimates 2004 : adjusted to current day value)