Volunteers are needed to help elderly people who are feeling lonely and isolated in Hartlepool.
The appeal comes after Cleveland Fire Brigade was recently commissioned by Hartlepool Borough Council to provide a Befriending Service over the next two years.
Befriending Co-ordinator Pam Cairns said: "We are looking for people who are friendly, outgoing and flexible. No experience is required, you just have to be 18 or over. The volunteers already onboard say it is wonderful to see what joy it brings when they visit someone who may not see any other people and the comfort it provides.
"The role varies from one-to-one visits in the home, to hairdressing appointments or taking them out on the various community activities we have organised, such as coffee mornings, crafts sessions and drop-in days. You only need to have an hour or so a week to spare."
Following on from referrals from families, friends or other agencies an assessment visit is carried out to match people with volunteers with mutual interests. We are currently running drop-in sessions every Tuesday at the Headland Community Fire Station (10am to 12noon) which you can pop along to find out more.
The Befriending Service is run by the Commissioned Services team at Cleveland Fire Brigade.
Volunteer Jean Ainsley, 65, recommends others to sign-up. "It is absolutely marvellous. You get to hear so many wonderful stories and for some people we are the only faces they see. Unfortunately there must be a lot of people out there who are lonely and just need someone to talk to and take them out occasionally so the more volunteers we have the better."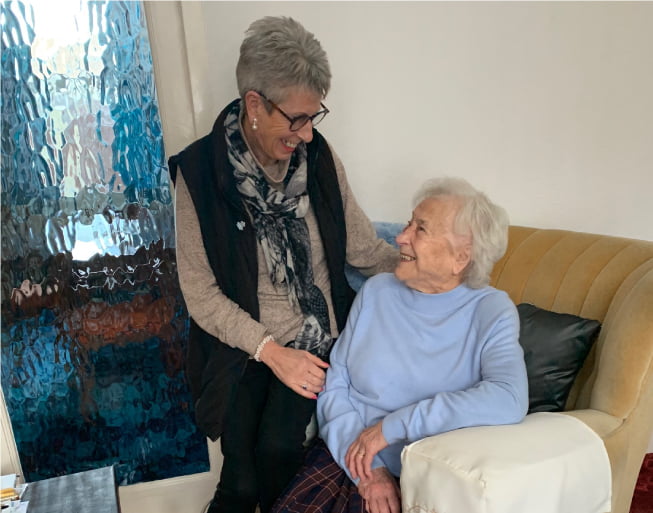 Jean, currently befriends two people, Connie, aged 89 and 96-year-old Jean.
Volunteers Jean said: "Connie and I have great laughs together. She is so quick-off the mark and a great sense of humour. Although the first signs of dementia are beginning to show she has a great long term memory and it is good to hear about her life.
"Jean recently had a hip replacement and lives on her own at home. She loves to go to the Headland and I take her to various appointments. She was with the army in Italy during the war and it is fascinating to hear all about it."
Volunteer Jean was a manager for a national cosmetics firm for 25 years and after retiring was persuaded by her family to help out. "They just said I should put something back and I really enjoy it. I always think it could be my Mum. She was on her own for ten years before she died. You get a huge satisfaction from being a volunteer and I would certainly encourage others to come forward."
Cleveland Fire Brigade started delivering the service in October last year and already helps some 30 people and more volunteers are needed as it looks to help others.
For more information visit www.clevelandfire.gov.uk/community/befriending-service/