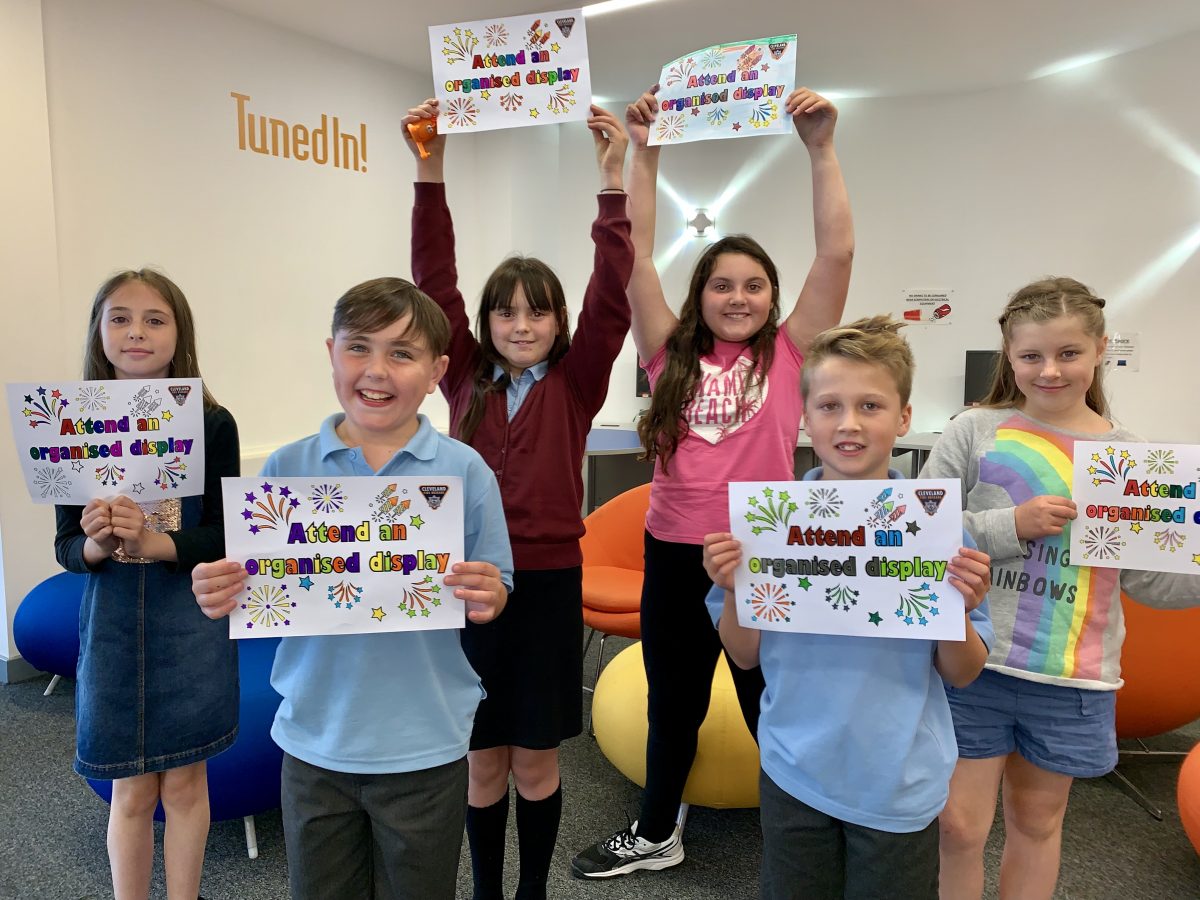 Cleveland Fire Brigade visited 'Tuned In!' in Redcar this week to help launch its Fireworks campaign, urging members of our community to Attend an Organised Fireworks Display.
Schools Education Co-ordinator, Rita Richardson, met with children from the Junior Club at 'Tuned In!' Redcar to talk about fireworks and the dangers of fire.
The children were the first in the region to get creative colouring in Cleveland Fire Brigade's new Attend an Organised Fireworks Display colouring sheet, which will be given out to children to help promote this year's key campaign message.  The colour-it-yourself Attend an Organised Display Fireworks sheet will also appear in Primary Times, a publication that is distributed to over 70,000 youngsters and parents across Cleveland.
Crews and our Schools Education Team will be out and about in the coming weeks, meeting with youngsters in key target areas, to reinforce fire and fireworks safety messages. And will be showing the short film More than a Uniform, which addresses the issue of violence against Fire Fighters.
Cleveland Fire Brigade will also be working with our partner organisations to get the message out that attending an organised fireworks display is the safest way to celebrate. Organised displays are not only safer but they tend to be more cost-effective and eye catching too.
Steve Johnson, Area Manager, Prevention and Protection, said: "We want everyone to enjoy themselves over the Fireworks season, but more importantly, to do so safely. There are organised displays planned across the Cleveland and we're asking members of the community to celebrate by heading along to one of these events.
"It is far safer to leave firework displays to the experts. Watching fireworks at a secured site, behind a safety cordon is the best way to celebrate safely and avoid injury. Plan ahead to find out about events near you and you'll discover lots of events are offering food, music and other entertainment too."
Organised displays will take place across Cleveland and Cleveland Fire Brigade has highlighted a few displays on their website. Check local press and social media for details of displays near you.