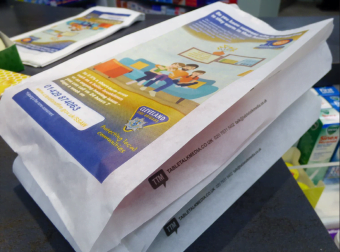 Cleveland Fire Brigade's Stay Safe and Warm targets pharmacies Cleveland Fire Brigade is once again working with local pharmacies to help Cleveland residents Stay Safe & Warm this winter.
Last year, the Brigade trialled the use of a bold and bright design on prescription bags to raise awareness about the free support available to residents of all ages. This trial scheme proved a very successful promotional tool and in total Stay Safe & Warm 2018/19 received over 340 referrals.
Printed prescription bags featuring details of the scheme will be distributed with prescriptions and medicines from 25 pharmacies across Cleveland from November until February as part of this year's campaign.
The launch of Stay Safe and Warm today (Tuesday 1 October) coincides with International Older Persons Day, but residents are reminded that free support is available to all ages and anyone struggling to stay warm this winter. In the year 2017-2018, 35% of those supported through by Stay Safe & Warm were aged under 16 years.
Cleveland Fire Brigade is urging the public to be mindful of any friends, neighbours or colleagues who may be struggling to stay warm in their home, whatever their age. In particular, it's hoped that carers or relatives collecting prescriptions on behalf of people who might benefit from the scheme will pass on the details, or, get in touch on their behalf.
Stay Safe & Warm provides a free home assessment and if required there is option to borrow heaters and other equipment such as thermal blankets or flasks. The Fire Brigade can direct residents to advice on managing fuel bills. And where funding is available, referrals will be made for free boiler repairs or replacements.
Steve Johnson, Area Manager Prevention and Protection for Cleveland Fire Brigade said, "If you know anyone who might struggle to stay warm over the coming months, get in touch. Older people can be vulnerable and at risk during the winter months but we know that many families with young children also cannot afford to heat their homes. This is a problem that can affect all kinds of people, and we are here to offer help and support where it is needed and keep our communities safe."
The scheme is collaboration between Cleveland Fire Brigade and all four local councils. More information about Stay Safe and Warm can be found at their stand at today's (Tue 1 Oct) at another event Cleveland Fire Brigade is supporting – STAGE or Safer Travel with Age Event event at Middlesbrough Sports Village 10am to 2pm. This event for senior road users offers free practical driving assessments and information and advice on other travel options.
To contact Stay Safe and Warm call 01429 874063 24/7 or go to www.clevelandfire.gov.uk/ssaw