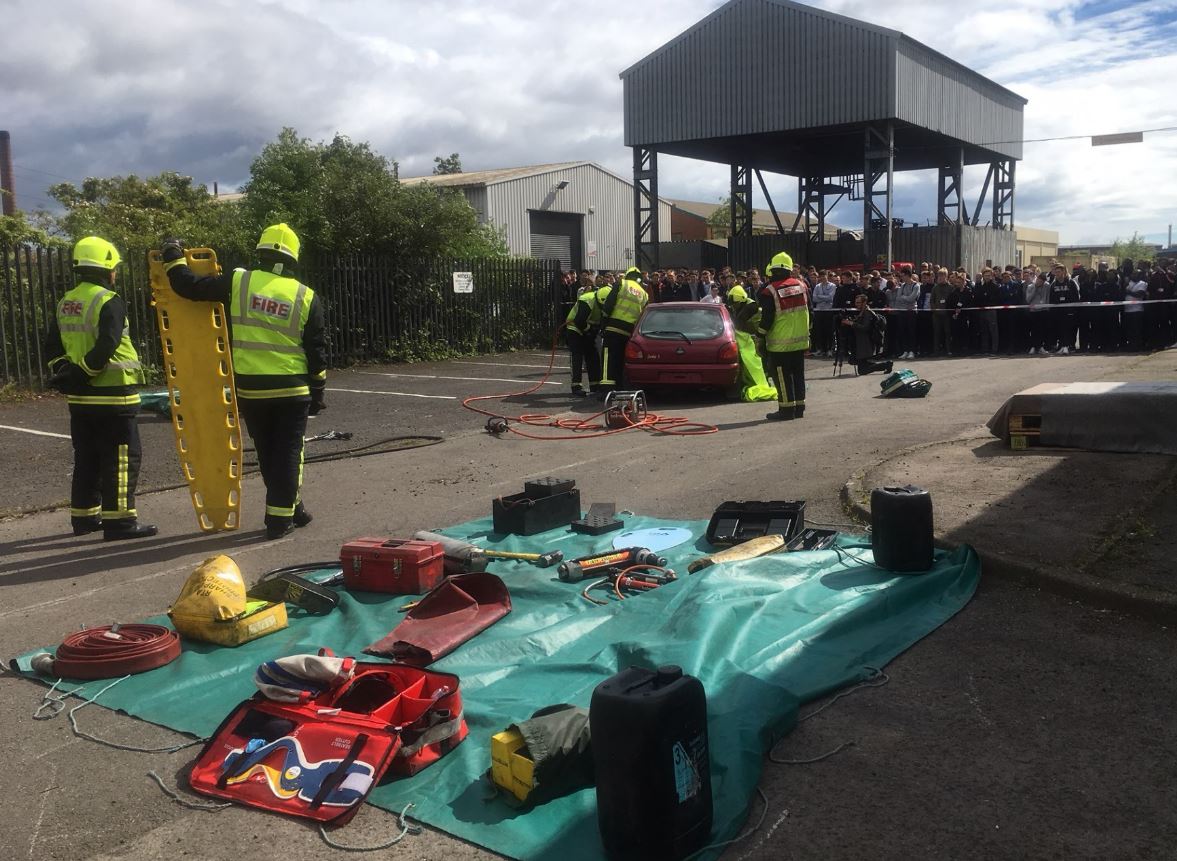 Young motorists are being steered in right direction on road safety after figures show 500 young people, aged 16 to 19, were injured in collisions between 2014 and 2018 in the Cleveland area.
Of these, nearly half were car drivers, with failure to look out for other road users as the most common contributory factor.
Cleveland Fire Brigade has teamed up with Cleveland Police, Durham Police and local authority road safety officers to deliver an intensive session in driving and road safety to some 200 young people at TTE's training centre in South Bank Middlesbrough on Wednesday 3 July (9.30 to 3pm).
It will focus on the so-called Fatal Four – the dangers of drink/drug driving, speeding, driving while distracted and not wearing seat belts. The course will include a staged car crash where the young learners will be extricated from a wrecked car and they will also have the opportunity to use the latest virtual reality technology to see at first hand the harrowing consequences of a road traffic crash.
Officers from Cleveland and Durham Police Specialist Operations Unit will deliver as hard hitting drink drive case study to show how lives can be wrecked by a split second decision to drive while over the legal limit. The Police's Safety Camera Unit will also be attending and students will have the chance to learn about the latest detection measures and how excess speed can ruin lives.
The young people will also be able to test their brake reaction times on specialist equipment.
Andrew Bright, Learn and Live Coordinator, Cleveland Fire Brigade said: "The course is part of our on-going commitment to influence the behaviour of young road users and young drivers are one of our priority groups. Figures show they are high risk and with the long summer holidays just around the corner this is a timely reminder to all road users not to take risks.
"A moment's lapse in concentration or distraction behind the wheel could lead to devastating consequences and a lifetime of regret. If you are driving at excessive speed you have less time react and you need longer to brake. As road users we can all play our part in improving road safety and simply ask everyone to take care and look out for each other."
The figures show that out of the 500 casualties there were six fatalities, 72 seriously injured and 422 slightly injured. Steve Grant, CEO of TTE Technical Institute, said:
'We are pleased to continue our longstanding relationship with Cleveland Fire Brigade to host this event and highlight the vital importance of road and driver safety. Safety is at heart of everything we do at TTE and we embed that philosophy with our learners, not just for their activities in our workshops or on site for their employers, but in every element of their lives.'