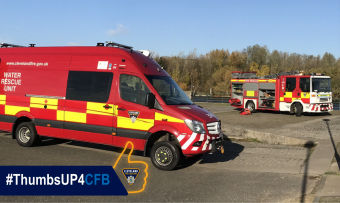 People being asked to give the Thumbs Up to one of the top performing fire and rescue services in the country can now find out more about the Brigade.
Every week, in what is dubbed "FridayFact@5", Cleveland Fire Brigade is issuing facts via social media channels to showcase the vast and varied work carried out by the emergency service.
It is all part of the ThumbsUp campaign which started at the beginning of March where people across Cleveland are being encouraged to take selfies and send them in across Facebook, Instagram, Twitter or LinkedIn using #ThumbsUP4CFB
Facts issued to date include:
In the last nine months Cleveland Fire Brigade has carried out 13,000 home fire safety visits to ensure people are safe in their homes
Cleveland Fire Brigade has a water rescue boat at Tees Barrage and a fully equipped water rescue unit at Thornaby Community Fire Station to respond to local and national incidents
Stations at Middlesbrough, Headland, Stockton, Thornaby and Redcar all have community rooms available for groups, charities and organisations to book for a small fee. For further details go to the stations page on www.clevelandfire.gov.uk
Chief Fire Officer Ian Hayton said: "We are proud to be one of the best performing fire and rescue services in the country and we have fantastic support from our local communities. Not everyone will be aware of the vast range of work we do and this is a way letting people know.
"Latest figures show a 24% reduction in the number of accidental fires in the home – maintaining Cleveland Fire Brigade's poll position as the best fire service in the UK in keeping people safe in their homes.
"Response times to emergency incidents are also one of the best in the UK, with the first fire engine arriving in less than five minutes. Cleveland Fire Brigade also has a great record on non-domestic fires – in 2017/18 the second lowest rate of fires in Non-Domestic buildings in the country."
The ThumbsUp campaign, is open to everyone from pupils to power station workers, builders to bankers and businesses, as well as shops, restaurants and community organisations.
Selfies can be taken where you work, study, play sport or at local landmarks and other places.