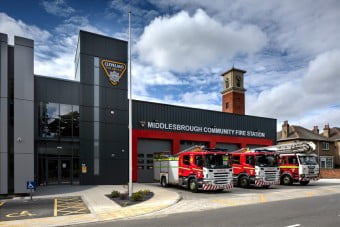 THE new Middlesbrough Community Fire Station will open its doors to the public this weekend (Saturday 26 September) for an action packed programme of fun for all the family.
The free event in Park Road South, Middlesbrough will be held between noon and 3pm and includes a range of activities as well as advice and information on how to stay safe.
Demonstrations will include a rescue from height at 12.30pm, a road traffic collision rescue at 1.30pm and chip pan unit demonstrations from 2-2.30pm. Visitors will be able to sit in a fire engine and have a go at using a hose reel. Other features include a climbing wall, games and a raffle in aid of The Fire Fighters Charity with the chance to win a signed Middlesbrough FC away shirt .
Phil Lancaster, Director of Community Protection with Cleveland Fire Brigade, said: "We are very proud of our brand new station which has been designed to be a community facility with a gym, meeting rooms and a Mini Fire Station for young people to take part in a range of activities.
"The open day is a great opportunity for the community to find out more about the work of firefighters and learn how they can protect themselves against the risk of fire.
"There will be lots happening during the event to suit people of all ages and we hope that people take the opportunity to come along.
"They will also have the opportunity to arrange a free Home Fire Safety Visit which involves firefighters visiting people in their homes and fitting free smoke alarms where necessary."
Cleveland Fire Brigade officially unveiled the new Community Fire Station earlier this month which forms part of a multi-million pound programme to bring buildings up to 21st Century standards.
The £4.4m state-of-the-art station replaces the previous 75-year-old building and was officially opened by Her Majesty's Lord Lieutenant Barry Dodd CBE, Chair of Cleveland Fire Authority, Councillor Jan Brunton and Chief Fire Officer Ian Hayton.