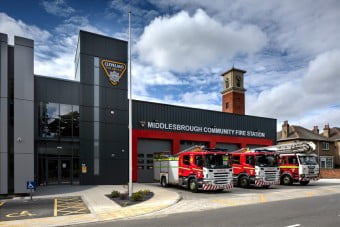 CLEVELAND Fire Brigade has officially unveiled the new Middlesbrough Community Fire Station which forms part of a multi-million pound programme to bring buildings up to 21st Century standards.
The £4.4m state-of-the-art station in Park Road South replaces the previous 75-year-old building and was opened by Her Majesty's Lord Lieutenant Barry Dodd CBE, Chair of Cleveland Fire Authority, Councillor Jan Brunton and Chief Fire Officer Ian Hayton.
The two-storey full-time fire station will deliver protection, prevention and an emergency response service to the Middlesbrough community. It also boasts a variety of community facilities including meeting rooms, a gym and a Mini Fire Station at the base of the Venetian Tower where young people will be able to take part in a number of activities.
The impressive new development forms part of a major re-building programme – partly funded by Government grant – to ensure that the Brigade can continue to provide the very best fire and rescue services to the people of Cleveland.
This will also result in new community fire stations at Thornaby and Grangetown and a new Training and Technical Hub on the Queens Meadow site in Hartlepool.
Chair of Cleveland Fire Authority, Councillor Jan Brunton, said: "We need to invest in new facilities so the Brigade can continue to provide an excellent emergency service and create fit-for-purpose buildings for the future. This is a fantastic new facility which I hope will be used by the community for years to come."
Chief Fire Officer Ian Hayton, added: "Middlesbrough Fire Station is at the heart of the community. It is not only important in terms of its emergency response to incidents for the area, but it is a community hub where staff work together with partners to provide support services to local people."