"There will be no let-up in our efforts to tackle arson in our communities" – that's the message from Cleveland Fire Brigade as it launches its summer campaign to stop deliberate fires.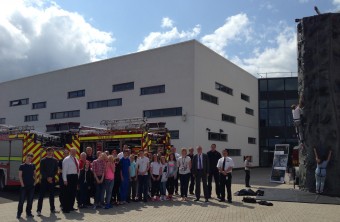 Arson accounts for around 70% of fires across Cleveland and the Brigade's Enough is Enough campaign aims to educate young people and the wider public about the dangers and consequences of starting fires.
Last year, deliberate fires in the Cleveland area increased by 18 per cent during the eight week period covering the school summer holidays compared to the previous eight weeks. This totalled 456 fires from 11 July to 7 September compared to 388 from 16 May to 11 July.
Phil Lancaster, Director of Community Protection with Cleveland Fire Brigade, said: "Arson ruins lives, communities and local businesses and our message is quite simple: Enough is Enough. We are watching you and anyone who starts a deliberate fire is likely to be caught."
"Our ongoing campaign involves targeting hot-spot areas and we'll be working closely with the Police and other organisations over the summer.
North Shore Academy in Stockton-on-Tees hosted the launch which brought together firefighters, young people, community leaders and other key agencies.
Pupils were able to view fire appliances, including a hydraulic platform and test their agility on the Brigade's climbing wall. Firefighters were also on hand to give out fire safety advice.
Mr Lancaster added: "We're grateful to North Shore Academy for hosting our launch and allowing us to deliver our messages right into the heart of Stockton's community. The school has been very supportive of Cleveland Fire Brigade and has invited us in on a number of occasions to deliver important safety messages to young people."
Andrew Rodgers, Principal of North Shore Academy said: "We relish the opportunity to work with our partners from all the emergency services and have been delighted to have worked closely with the fire brigade over this past year. I am sure that our students will be safer due to the hard work completed by the fire service both in schools and in the community."