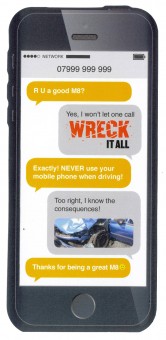 Students from a local training centre will be getting up to speed with road safety issues on Monday 8 June 2015 to kick-start a national week-long campaign aimed at reducing deaths and injuries on our roads.
Young drivers and their passengers being distracted on the road is the focus of the Chief Fire Officers Association (CFOA) Road Safety Week which runs from 8-14 June.
Cleveland Fire Brigade is backing the (CFOA) campaign and has the support of Cleveland Police and local authority road safety teams to help get across key safety messages to young drivers.
At the launch event at Billingham's NETA Apprentice Training Centre, over one hundred 16-19 year-olds will receive advice and tips during a series of interactive sessions before firefighters carry out a multi-vehicle crash scene rescue scenario involving students from both the Billingham and Portrack NETA training centres.
Road collisions are still the leading cause of death for young adults between 15 and 19 and drivers are four times more likely to have a crash if they are using a mobile phone at the wheel.
Ian Hayton, Chief Fire Officer with Cleveland Fire Brigade, said: "Once again we are focusing on the issue of young driver distraction because of the high fatality rate among young drivers.
"Young people are so used to multi-tasking such as watching TV while texting and using the internet, they might not even anticipate the dangers of doing so whilst behind the wheel.
"The campaign provides an opportunity to work together with all of the other relevant key agencies and raise awareness of the risks on the roads and save young people's lives."
Distracted driving activities include things like using a mobile phone, texting and even eating. Using in-vehicle technologies (such as navigation systems) can also be sources of distraction.
Andrew Bright, Cleveland Fire Brigade's Learn & Live Co-ordinator, added: "The Brigade attends dozens of road traffic incidents every year and our officers witness the trauma first-hand that casualties go through which often could have been avoided if more attention to the driving task had been given. Driving requires a 100% focus and concentration from a driver whether young, old, inexperienced or experienced.
"With the advance in modern technology it's hugely important that we remind people about the dangers that devices such as mobile phones can cause and during CFOA Road Safety Week we'll be doing our utmost, along with our partner organisations, to get across our vital messages to save lives.
"Passengers can also be a big source of distraction and have an important role to play in helping the driver to be able to concentrate on just driving, so the campaign will also be targeting messages about this too.
NETA's Chief Executive Frank Ramsay, commented: "NETA is delighted to be working in partnership with the emergency services and other providers to promote key messages on road safety. We're sure that, with the range of equipment and simulators available for young people to experience, the day will be both enjoyable and informative."
"Make the Pledge" – we are encouraging people to make a difference to road safety and sign up to the Brake Road Safety charity Pledge.