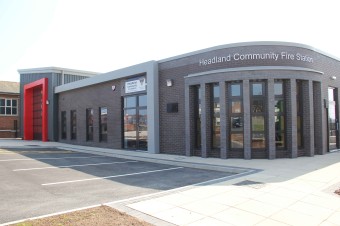 CLEVELAND Fire Brigade will unveil a new fire station this Friday (31 October) which forms part of a multi-million pound programme to bring buildings up to 21st century standards.
The state-of-the-art £830,000 Headland Fire Station in Hartlepool replaces the previous building in Durham Street which was over 50-years-old.
The single-storey retained fire station houses one fire engine and will deliver protection, prevention and an emergency response service to the Headland community. It also boasts a community room which will be made available to local groups.
The impressive new development forms part of a major re-building programme – partly funded by Government grant – to ensure that the Brigade can continue to provide the very best fire and rescue services to the people of Cleveland.
This will also result in new community fire stations at Middlesbrough, Thornaby and Grangetown and the Brigade is currently consulting on proposals to create a new Training and Technical Hub on the Queens Meadow site in Hartlepool.
Brian Briggs, chair of Cleveland Fire Authority, said: "It is absolutely vital that we invest in new facilities to ensure that we can continue to provide excellent emergency services to the people of Cleveland for years to come.
"The design for the new Headland Fire Station was drawn up following consultation with local residents and I am sure that they will be delighted that we have incorporated some community facilities."
Local schoolchildren have also been heavily involved in the project and helped to bury a time capsule full of interesting artefacts under the new building during construction. They have also designed posters which will be displayed on the walls of the station for the official opening.
Chief Fire Officer Ian Hayton, added: "This is the first in a series of building projects to ensure that the Brigade has the very best and most efficient facilities to protect residents, businesses and visitors to Cleveland.
"This is a fantastic new community fire station and I am sure that residents living on the Headland and in the surrounding feel very re-assured to have the very latest fire and rescue facilities on their doorstep.
The Fire Authority's Framework Contractor ISG developed the design for the new station.
Fire chiefs are appealing for anyone interested in being a retained (part-time) firefighter to come forward. For further details visit http://www.clevelandfire.gov.uk/recruitment/retained/or email recruitment@clevelandfire.gov.uk Alternatively, call the Brigade on 01429 874121 during office hours on weekdays.