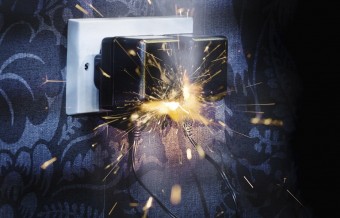 Residents across Cleveland are being urged to follow some simple electrical safety tips to help them and others stay safe and free from injury.
The call from Cleveland Fire Brigade's Director of Community Protection Phil Lancaster comes as figures show that although accidental house fires are reducing, the number of electrical-related fires is increasing.
Statistics show that between that April 2013 and March 2014 there were 145 accidental house fires in Cleveland, 51 (35%) of which were electrical-related.
This compares with 194 accidental house fires over the same period two years earlier when 47 (24%) were electrical-related.
In 2013/14, faulty wiring accounted for the highest number of fires (11), with dishwashers (6) and tumble dryers (5) the next highest.
Phil Lancaster said: "Although overall accidental house fires are continuing to drop year-on-year, the number of incidents with an electrical cause is going up which is cause for concern.
"Faulty wiring was responsible for the most electrical-related fires in the last year so we urge residents to pay particular attention to the advice and support available to help people stay safe in their home."
If you notice any of the warning signs below, ask a qualified electrician to check your wiring:
hot plugs and sockets.

fuses that blow for no obvious reason.

lights that flicker.

brown scorch marks on sockets, plugs and fuse boxes.
Mr Lancaster added: "A big part of our preventative work, including our free Home Safety Fire Visits, is spent reminding people of the risks that wiring and electrical equipment can pose if they are not maintained properly.
"Firefighters are always available to visit people's homes at their convenience to offer advice and fit free smoke alarms if needed."
To arrange a visit, residents need to simply call 01429 874063.