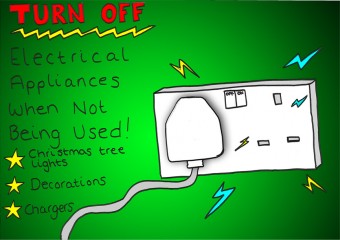 Cleveland Fire Brigade is launching its seasonal safety campaign on Wednesday 4 December from 10.00am at B&Q, Cleveland Retail Park, Middlesbrough. Santa will be there on his sleigh supporting Brigade staff and the Cleveland Fire Support Network to promote safety messages, present prizes to the winners of the festive card competition and to spread lots of cheer!
We know that everyone is busy leading up to and over the festive season, so the message from Cleveland Fire Brigade is to 'Stay Safe and Celebrate'! Every year during the festive season, many people suffer injuries because they don't take enough care in their own homes.
The Brigade's six key messages to help you and your family stay safe are:
Keep your cooker clean – burnt food and fat can cause fires
Stand by your pan – never leave cooking unattended
Don't drink and fry – if you have a festive drink don't cook
Be a bright spark – turn off electrical equipment when going out or going to bed, including festive lights
Maintain electrical appliances – a few simple checks will help keep you safe
Don't hang clothes near heaters or cookers – they can easily catch fire
Phil Lancaster, Director of Community Protection with Cleveland Fire Brigade, said: "Christmas is a time for having fun with family and friends, however it is also a time when everyone has extra fire hazards in their homes, such as festive lights and decorations. By following our simple safety tips, you can help keep you and your family safe and enjoy your celebrations.
"Without doubt, the kitchen is the most hazardous room in the home and over half of accidental house fires start there. Over the festive season cooking is a central part of the celebrations, so three of our safety tips focus on this – keep your cooker clean, never leave cooking unattended and don't drink and fry or cook.
"We want everyone to remember Christmas 2013 for all the right reasons and not because they ended up in Accident & Emergency or lost a loved one through a tragic accident that could have been avoided."
Paul Heath, Duty Manager for B&Q in Cleveland Retail Park said, "We are delighted to be able to help Cleveland Fire Brigade promote their festive safety messages to help keep our community safe. It would be great to see all our customers come down to the store to see Santa and get some great advice at the same time. Santa will be in the store between 10am and noon."
Visit our webpage at www.clevelandfire.gov.uk/celebrate where you see our interactive house which will give you detailed safety tips and advice as well as safety videos to view.
The campaign will run throughout December with more safety advice and activities across Cleveland, which will be supported by online activity, posters, leaflets, and radio advertising.
To help keep you and your family safe from fire this festive season call the Brigade on 01429 874063 for a free Home Fire Safety Visit. You will receive specific fire safety advice for you and your family and we will provide and fit smoke alarms if needed.