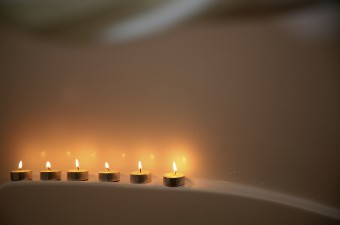 Fire Chiefs are asking people to take care this Candle Fire Safety Week (25 November – 1 December) and snuff out the risk of fire in their homes.
With the days growing darker and winter setting in, a few candles scattered round the room can lend a warm glow to an evening in.
Across Cleveland accidental candle fires in the home have more than doubled in the last three years from 6 in 2010/11 to 14 in 2012/13, so Cleveland Fire Brigade are asking people to take extra care with candles this winter.
Les Jones, Head of Community Safety said: "Candles are a typical sight in many homes, scenting our rooms and giving an atmospheric glow to cold winter nights. But it's important to remember that a candle is not just a decorative feature. Left unattended, an open flame scenting your home could leave a trail of devastation.
"Place your lit candles with extra care, away from curtains, pets and children and always remember to put them out when you leave the room, even for a moment.
"Even with these precautions it's vital to be prepared should the worst happen. A working smoke alarm can give you the vital time you need to get out, stay out and call 999. Keep yourself and your loved ones safe by testing your alarm regularly and by practicing your escape routes."
To help you enjoy your candles safely, here are our top tips for this Candle Fire Safety Week:
Always place your candles and tealights in a suitable fire resistant candleholder
Make sure the candleholder keeps candles and tealights firmly secure and is on a flat and stable surface to stop it falling over
Always put the candleholder on a heat resistant surface like a ceramic plate (tealights can melt plastic surfaces such as the top of a television or the side of a bath)
Always leave at least 10cm (4 inches) between burning candles and tealights. Never place them under shelves or other enclosed spaces
Keep candles, tealights, matches and lighters out of the reach of children and pets
Keep candles and tealights away from curtains, furniture and anything else that can catch fire
Keep loose clothing and hair away from candles and tealights when they are lit
Always put candles and tealights out and leave to cool down before you try to move them
Use a candle 'snuffer' or metal spoon to put candles and tealights out – it is safer than blowing them out which can send sparks and hot wax flying
Never leave candles or tealights unattended
Never put tealights on plastic surfaces such as baths