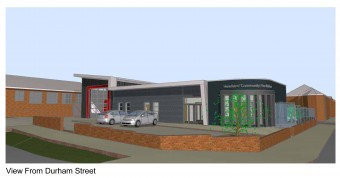 The local community throughout the Headland area are invited to attend a consultation day on Thursday 12 September in the Croft Room of The Borough Hall at 11.00am to 1.00pm and 4.00pm to 6.00pm. The Chief Fire Officer and the Chairman of the Fire Authority will open proceedings at the morning session.
People can come along at these times and view detailed plans, speak to Brigade staff about the new Station and again have their say as part of the formal Council Planning application process.
The new Station will replace the existing building and will meet the needs of a modern fire and rescue service. It will remain a retained operational fire station, housing one fire engine and delivering protection, prevention and an emergency response services to the community at the Headland. There will also be community facilities for residents to use and the building will be completed in June 2014.
Ian Hayton, Chief Fire Office at Cleveland Fire Brigade said, "Our vision for the future of this new Community Fire Station is one of flexibility and versatility, so the Brigade can provide first class facilities and services to support local needs.
"It is important for us to engage with the residents of Headland to gain the feedback we need to ensure the community have a Station which will be at the heart of the community, as local residents will be able to utilise the facilities.
"Remember it's Your Brigade, Your Station, Your community, so please view the designs and have your say."
Councillor Robbie Payne, Chairman of the Fire Authority and Ward Councillor for Headland and Harbour said, "The new Station is fantastic news for the local area and it is important for residents to have an input into the future of their Fire Station. This is a great investment and a long term commitment to the delivery of high class community safety and emergency response services to the people of the Headland."
It is anticipated that work on the new Station, which will be rebuilt on its existing site will start later this year. In the meantime, due to the temporary fire station being on the existing site, all services will be maintained to an excellent level.
If you are unable to attend the consultation day, you can visit www.clevelandfire.gov.uk/myvoice where the plans will be available to view from Thursday 12 September and make any comments or ask any questions.
Remember you can also visit our website at www.clevelandfire.gov.uk to view safety advice as well as our news and details of events happening throughout the Brigade; and can also follow us on Facebook (/clevelandfb) or Twitter (@clevelandfb).