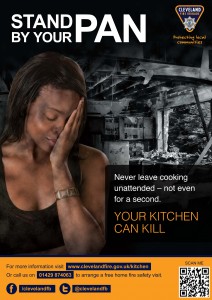 Cleveland Fire Brigade's new campaign is aimed at reducing kitchen-related fires and saving lives.
The Kitchen Safety campaign, which will run until the end of February, coincides with the release of Brigade statistics which show that there were 168 accidental house fires across Cleveland last year, of which 110 (two-thirds) started in the kitchen.
Next week students from colleges in Hartlepool, Middlesbrough and Stockton will compete in a cooking competition with the Inter-College Cookery Final at Hartlepool College of Further Education on Friday 15 February.
Under the watchful eye of the Cleveland Fire Support Network and fire safety personnel, students will be given a set time to serve up their healthy delicious dishes. Judges include three of the area's leading chefs; Krimo Bouabda from Hartlepool's Krimo's Restaurant, Martin Moore from Yarm's Lotus Lounge and Alan O'Kane from Wynyard Hall Hotel and Spa and Phil Lancaster, Director of Community Protection for Cleveland Fire Brigade.
The winning team will receive a week's training at Wynyard Hall Hotel and Spa plus a meal for each student with an accompanying guest.
The campaign's six key messages are as follows:
Stand by your pan – never leave cooking unattended – not event for a second
Clean your grill as fire can kill – always clean your grill after use. Grime, burnt food and fat cause fires.
Chuck out your chip pan – it could save your life
Don't drink and fry – fires start when you fall asleep whilst cooking food
Maintain Electrical Kitchen appliances – a few simple checks can make all the difference to the safety of your home
Don't hang materials near heaters or cookers – it can easily catch fire
Phil Lancaster, Director of Community Protection with Cleveland Fire Brigade, said: "This is a really important and high profile campaign as the majority of house fires across Cleveland start in the kitchen and by following a few simple tips, they could be prevented.
"We will be reaching out to all our communities across the area, but in particular, we will be targeting people who we feel are at highest risk and ensure we give them the right advice and support.
"You wouldn't really think it but the kitchen is the most dangerous room in your home and it's where the most fires occur– remember your kitchen can kill."
TheClevelandFire Support Network – a voluntary group who works alongside the Brigade – have organised the cooking competition and are supporting this campaign.
Its Chief Executive, Heather Whyman, commented: "The cooking competition is around local colleges and students because this is the time in their lives when many students start to live independently and spend more time in the kitchen preparing and cooking meals.
"Two-thirds of house fires start in the kitchen and we will be advising people how incidents can be avoided and how they can stay safe."
At the cooking competition final firefighters and Cleveland Fire Support Network staff will be giving out safety advice, demonstrating how an old fashioned chip pan can be deadly and there will also be a free prize draw.
During the campaign which includes National Chip Week (18th – 24th February) firefighters will also be out and about spreading safety messages and handing out information.  The campaign also includes advertising, a competition and online activity.
You can visit our kitchen safety house and find out further safety information at www.clevelandfire.gov.uk/kitchen or join us on Facebook or Twitter.
To help keep you and your family safe from fire, the Brigade provides free Home Fire Safety Visits and will fit smoke alarms if needed. Call 01429 874063 to arrange a visit to your home and you will receive specific fire safety advice for you and your family.