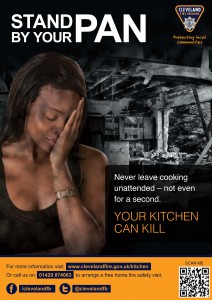 Latest figures show that accidental house fires cost the tax payers across Cleveland £4.2 million pounds last year, two-thirds of which were due to fires which started in the kitchen.
Throughout February Cleveland Fire Brigade are running their kitchen safety campaign to help drive home that these fires can be prevented and precautions can be taken to help reduce the risk. The safety messages are:
Stand by your pan – never leave cooking unattended – not event for a second
Clean your grill as fire can kill – always clean your grill after use. Grime, burnt food and fat cause fires.
Chuck out your chip pan – it could save your life
Don't drink and fry – fires start when you fall asleep whilst cooking food
Maintain Electrical Kitchen appliances – a few simple checks can make all the difference to the safety of your home
Don't hang materials near heaters or cookers – it can easily catch fire
Phil Lancaster, Director of Community Protection said: "It is amazing to think that last year accidental kitchen fires alone cost the economy of Cleveland £2.75 million pounds. If we include all accidental house fires that's £4.2 million pounds that could have been saved had people been cautious and taken more care, particularly in what is classed as the most dangerous room in the house from fire – the kitchen.
"We have been out in force throughout February visiting colleges, shopping centres, supermarkets and even knocking on people's doors to try to drive home the message that these fires can easily be prevented. We have also been using our Facebook and Twitter pages to remind those in our community how they can reduce the risk
"Nobody thinks that their house is going to catch fire or burn down and people have busy lives, so fire safety sometimes goes down the list of priorities. The odds of winning the jackpot on the national lottery are 14 million to one and most people buy a ticket, the odds of having a fire in your home are fourteen thousand times greater at 1000 to one, we would urge local people to heed our warnings and to really take notice of our messages – please check your grill pan is clean, chuck out your chip pan if you have one and please, please, please, don't go home and cook after you've had a night out drinking."
You can visit our kitchen safety house and find out further safety information at www.clevelandfire.gov.uk/kitchen or join us on Facebook or Twitter.
To help keep you and your family safe from fire, the Brigade provides free Home Fire Safety Visits and will fit smoke alarms if needed. Call 01429 874063 to arrange a visit to your home and you will receive specific fire safety advice for you and your family.