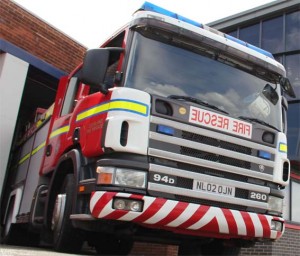 Cleveland Fire Brigade operates in a high risk environment with large industrial and petro chemical complexes; and dense populations, with high levels of deprivation, anti-social behaviour and arson.
Whilst we recognise the need for all public services to contribute towards reducing the national deficit our revenue grant is to be cut by 29% over a four year period which means Cleveland Fire Brigade is one of the worst hit Fire and Rescue Services in the UK. This reduction means we estimate a shortfall of approximately £3.4 m over the next two financial years.
Managing our risks and ensuring the safety of our communities and staff is and will always be our number one priority.
Robbie Payne, Chair of Cleveland Fire Authority said "The significant cuts imposed by successive governments is putting public safety at risk. We must do everything we can to minimise the impact of these cuts on our community and our workforce, so the Fire Authority are looking at this issue as an immediate priority.
"We are working hard to protect our community and our Service. We have and will continue to lobby Government through our MP's asking for an urgent review of the Government grant funding formula so it takes into account the risks in each area and to also address the inequality of grant amounts across services."
Chief Fire Officer, Ian Hayton added "If our capacity drops, the risk is more fires, fire deaths and injuries. We have spent the last ten years significantly reducing the risk to local people on Teesside and no way are we giving up that success without a fight. We are doing everything we can to safeguard our public and our service."
In the last decade we have achieved success through:
Providing national resilience for dealing with terrorism, flooding and other climate change issues
Reducing fires, injuries and deaths through our prevention work including education and community services ie Home Fire Safety Visits
Reducing deaths and serious injuries on our roads through our partnership working and education
Working to reduce arson and anti-social behaviour in our communities through educational courses, diversionary activities and engagement programmes with those most at risk.
Partnership working to improve the health and wellbeing of our local communities, particularly through our work with vulnerable people
We realise we have to change to move forward and the ways in which we deliver and resource our range of services is a result of years of modernisation and improvements.
Our trading company Cleveland Fire Brigade Risk Management Services CIC, which is a community interest company, formed 18 months ago and since then has been growing from strength to strength. Our CIC was created to help bridge the gap in the budget reduction as all surplus made is directly reinvested back into our community services. This means that business and industry are helping keep our communities safer.