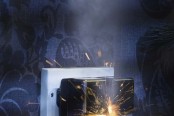 TREAT electricity with the greatest care – or it could cost you your home or even your life.
That's the stark warning from Cleveland Fire Brigade as it teams up with the Electrical Safety Council to raise awareness of the dangers and pass on some vital safety tips during Electrical Fire Safety Week from Monday 24th to Sunday 30th September.
Half of all accidental house fires in the UK last year – about 20,000 – were caused by faulty or misused electrical equipment and each year electricity kills about 70 people and seriously injures 350,000.
Last year across the Cleveland Fire Brigade area, electrical accidents caused more than 50 house fires and one fatality.
Cleveland Fire Brigade is holding a series of drop-in events to advise people on how to reduce the risks in their home. It's also encouraging people to bring along any small electrical items which they are concerned about – such as toasters or electric blankets – for a free safety check.
Where people are eligible, their faulty electric blanket and adaptor will be replaced free of charge and everyone who comes along will have the opportunity to enter a free prize draw.
The drop-in events are in:
The Middlesbrough Life Store in the Cleveland Centre in Middlesbrough on Tuesday 25th September from 10am to 4pm.
Wellington Square in Stockton on Wednesday 26th September from 10am to 4pm.
Middleton Grange Shopping Centre in Hartlepool on Thursday 27th September from 10am to 4pm.
Redcar High Street (near W H Smith) on Friday 28th September from 10am to 4pm.
Phil Lancaster, Director of Community Protection said: "Millions of people across the UK expose themselves to potentially fatal accidents at home – particularly in the kitchen – because they don't understand the dangers of electricity. Please don't be one of them!
"Who would have thought tumble dryers could be the cause of devastation, but with the colder temperatures creeping in and their increased use, if they are not regularly cleaned out, the excess fluff builds up and can catch fire, which is something we often come across at this time of year.
"I would urge all residents to follow some simple checks to help keep you, your family and your home safe. Come and see us to find out more or check out our details on our website or on Facebook."
Key electrical safety tips include:
Unplug all appliances when not in use eg laptops/phone chargers/hair straighteners.
Check regularly for frayed or worn cables.
Keep electrical equipment clean and in good working order.
Ensure tumble dryers and washing machines are cleaned and maintained – excess fluff can build up over time and catch fire.
Don't overload plug sockets with multiple plugs.
Look after your electrical blankets.
Always use the right fuse on your appliance to prevent overloading.
For more information visit our electrical safety web page or join us on Facebook or Twitter.
To help keep you and your family safe from fire, the Brigade provides free Home Fire Safety Visits and will fit smoke alarms if needed. Call 01429 874063 to arrange a visit to your home and you will receive specific fire safety advice for you and your family.