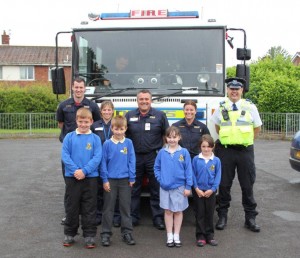 Football and general fitness sessions held in Stockton by Cleveland Fire Brigade have been deemed a success and children who took part were thanked for their efforts this week at a presentation at Tilery Primary School.
For six weeks a Multi-Use Games Arena (MUGA) was set up in Portrack, Stockton, to what is known locally as 'The Black Path', and free sessions were available for anyone under the age of 18 every Sunday.
Emma Rushforth who ran the scheme said: "This initiative was a pilot for the area and we have had a fantastic take up throughout, with many of the children attending regularly. In the first week we had almost 50 children turn up. They all put a massive amount of effort in and I am delighted with how things have gone. Staff from Youth Support Services (IYSS) joined us to help deliver the sessions.
"Our aim was to give youngsters in the area something to do on a weekend and to help us engage with them in a positive way whilst being able to get messages across to them such as arson and its consequences. There was a 68% reduction in nuisance fires during the scheme, and because of this success we have just started another six weeks of sessions in the same place which will run every Sunday until the 12th August, so anyone under the age of 18 is welcome to come and join in."
Emma attended the school to give those who took part, and played a huge part in making the pilot scheme a success, a special treat with a visit from local fire crews in a fire engine. They also received individual gifts, given out during the presentation, thanks to donations made by Cleveland Police and Paul Surtees, who is the Youth Support Project Manager for Integrated Youth Support Services (IYSS).
Police Community Support Officer Robert Townsend said: "The initiative is a fantastic idea and we are very happy to support it. The partnership work carried out has had a tremendously positive influence in the local area and we are really pleased to see so many youngsters engaging in the scheme.
"Across the district we have seen a 27.6% decrease in anti-social behaviour (April – June 2012) and we hope through schemes such as this and a partnership approach we will continue to see these reductions."