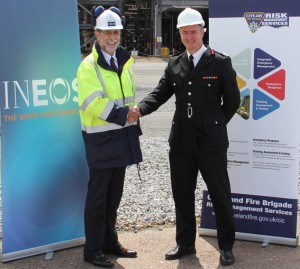 Thousands of families in Teesside will benefit directly from dozens of new community safety schemes funded entirely by the profits of a new contract recently awarded to Cleveland Fire Brigade.
Heralding a bold new approach for local fire services, Cleveland Fire Brigade won the multi-million pound private sector contract and immediately confirmed that profits would help pay for a raft of new community-based education programmes over the next three years.
The new contract was awarded to Cleveland Fire Brigade by INEOS Nitriles, one of Europe's largest industrial manufacturers of plastics, to provide 24-hour emergency cover at the company's Seal Sands site.
Chief Fire Officer Ian Hayton said, "Safety is the highest priority at INEOS Nitriles at Seal Sands and we will be on hand at all times to uphold the existing standards of excellence on site and to deliver first rate fire and emergency support services."
The work will be delivered through a new business run by the Brigade – a social enterprise that ensures any profits generated help to achieve broader community benefits. Cleveland Fire Brigade hopes their approach of combining new commercial opportunities with a direct positive impact for local people will safeguard local fire and rescue provision from the kind of deep cuts in funding currently impacting the public sector.
Hayton added, "This is fantastic news – we're over the moon that our social enterprise approach has scored its first big commercial success. The money we make from this work will go directly back into protecting our community and we expect this contract to be the first of many more in the future.
"This is ground-breaking territory not only in the good it will deliver for our community, but it holds the door wide open for fire and rescue services across the country to follow in our footsteps, using commercial income to protect our service nationwide.
"At the heart of our approach is pride," said Hayton, "pride in our service and pride in our community – that's what gets us out of bed in the morning. Supported by the profits we make we can maintain an impeccable level of service, and carry on saving lives and keeping local people safe. Through working with industry, we can also help boost our local economy and get more people into work."
Jean Phaneuf, from INEOS Nitriles, underlined that safety is the company's highest priority. "This decision was not taken lightly. Our Teesside site has tried and tested risk management and incident prevention arrangements in place. In awarding this contract it was absolutely essential that these were not compromised.
"We believe that dedicated service provided by Cleveland Fire Brigade Risk Management Services CIC will meet our very high expectations and help us to further develop our capability as part of requirement to continually improve our own employees capabilities.
"Cleveland Fire Brigade CIC will help us to further develop our close focus on safety by ensuring the very best equipment and expertise will continue to be applied to the prevention of incidents and if necessary respond effectively.
"Not only will we be receiving a high quality professional service, will are delighted that profit made by CIC will be used  to provide vital community safety work that will make a positive difference to people safety and quality of life across Teesside."