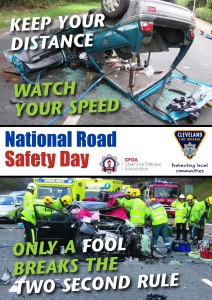 Cleveland Fire Brigade is teaming up with the Police, a major supermarket and local authorities this week to drive home the importance of road safety to motorists.
Firefighters from Grangetown Fire Station will be joined by Police and Redcar & Cleveland and Middlesbrough Council road safety officers at the Tesco Extra superstore, Southbank on Friday 6 July between 11am and 2pm.
The event is being held to coincide with the Chief Fire Officers Association National Road Safety Day.
Figures show that during 2011 there were a total of 1345 casualties as a result of road traffic collisions throughout Cleveland, 144 of these receiving serious injuries with 12 fatalities.   In the last five years (2007 to 2011) 60 people have lost their lives in road traffic collisions on the roads of Cleveland.
During the day, people will be able to visit the Brigade's Learn and Live roadshow, Redcar & Cleveland Council's road safety caravan and try out the Brake Reaction Simulator. The Police will also be in attendance with the Camera Enforcement Unit and the public will be able to find out more about the recently launched Neighbourhood Policing Community Speedwatch initiative.  Cleveland Fire Brigade staff will be offering motorists visiting the site free washer bottle top ups and safety checks.
One of the key messages which will be driven home is 'Only a fool breaks the 2 second rule'. Road safety experts are of the view that in normal driving conditions, drivers should leave a minimum of 2 seconds between them and the car in front to react to prevent a serious accident.
'Watch your speed' is another key safety message. Department for Transport (DfT) research shows that 85% of pedestrians who are hit at 40mph will die, compared to 45% at 30mph and 5% at 20mph. DfT figures also show that 59% of drivers break speed limits on 30mph roads.
Earlier this year Cleveland Fire Brigade was awarded the prestigious European Road Safety Charter for its commitment to road safety but Redcar & Cleveland District Manager Steve Walton said the Brigade will not relent in its efforts to hammer home its safety messages.
Mr Walton said: "Every year the Brigade attends dozens of road traffic accidents and witness the trauma first-hand that casualties go through. Research clearly demonstrates that speed kills and one of the key messages we will be getting across is to urge people to drive safely and stick to the speed limits.
"Events like this present us with a great opportunity to reach out to local communities and remind them that they can stay safe by following some simple rules."
Acting Inspector Keith Kitson of the Cleveland & Durham Specialist Operations Unit said that whilst the number of people killed or seriously injured onCleveland's roads continues to fall, every death is potentially avoidable.
"We continue work in partnership with the Fire Brigade and local authorities to get these important messages across, but ultimately we require the support of the motoring public to ensure that they are considerate of other road users and are mindful of the detrimental impact to driving standards due to the use of alcohol, drugs and mobile phones, " said Acting Inspector Kitson.
Tesco Extra superstore manager Tim Howell said: "We are delighted to be working together with Cleveland Fire Brigade and other key organisations to help promote road safety.
"Tesco is committed to promoting a safe environment for all of its customers and I am sure they will find the event extremely useful."
During the day, firefighters will also be visiting petrol stations throughout the Brigade area to remind motorists of the importance of road safety.