Cleveland Fire Brigade chiefs are urging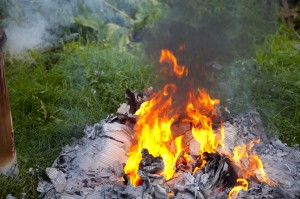 householders to stay safe and protect the environment by not burning rubbish in their gardens.
The call coincides with a long spell of dry weather and lighter evenings which could tempt people to have a bonfire in their garden.
Garden fires create a drain on the Brigade's resources and these could be avoided with a bit of common sense, according to Station Manager Steve Patton.
He said: "At this time of the year a lot of people clear out their garages or have a Spring clean and decide to get rid of their rubbish by having a bonfire in the garden.
"However, what they don't realise is that this is very anti-social, discharges pollutants into the atmosphere and potentially puts property and lives at risk.
"We have witnessed so many incidents over the years when fires have got out of control and caused serious damage to property and threatened lives."
Mr Patton urged residents to use Council recycling facilities to discard of their household waste rather than having unnecessary fires.
He is appealing to residents to heed the following advice so they don't put themselves, their families and others at risk:
Under no circumstances have a fire in your garden
Burning garden waste gives off harmful pollutants
Fire spreads easily, putting lives and property at risk
Compost garden waste or recycle – your local Council will advise
If residents require further information about the disposal of household waste they should ring their local Council on one of the following numbers:
Hartlepool Council – 01429 523846
Middlesbrough Council – 01642 726001
Stockton-on-Tees Council – 01642 391959
Redcar and Cleveland Council – 01642 774774
To help keep you and your family safe from fire, the Brigade provides free Home Fire Safety Visits and will fit smoke alarms if needed.  Call 01429 874063 to arrange a visit to your home and you will receive specific fire safety advice for you and your family.
For further safety information and news about the Brigade, join us on Facebook or Twitter.