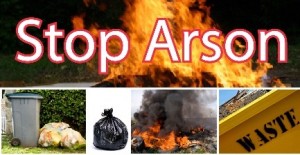 CLEVELAND Fire Brigade is urging people to play their part in the fight against arson by following some simple safety advice.
Figures released by the Brigade for 2010/11 show that arson accounts for 76% of fire-related incidents and the cost to the local economy is in excess of £14m per year.
As part of a month-long campaign to drive arson down, the Brigade has issued some basic tips for residents and businesses to help reduce such incidents.
Phil Lancaster, Director of Community Protection with Cleveland Fire Brigade, said: "In our area the large majority of fires are arson related. We are determined to do everything we can to address this issue, but the support of residents and business staff can help make this campaign more effective.
"Arson can have a devastating impact on businesses and the residents of Cleveland in several ways.
"The Brigade is working closely with the Police and other key partners to get the message across that arson is a crime and can kill. Also, as well as the cost of arson to the local economy, there is the damage it causes to the fabric of our communities and the misery it brings to everyone.
"Fires involving rubbish and bins can easily spread to homes, putting those who live there at risk. In order to protect yourself, your family and your community, please follow this simple advice:
Ensure your wheelie bin or black bags are not left lying around for arsonists to use as fuel.
Put your wheelie bin or black bags out on the day of collection and then bring your bin back in as soon as possible afterwards.
Keep your wheelie bin or black bags in a secure place so they can not be used as fuel.
If you are throwing out old furniture or other household items, call your Council to arrange a collection and keep them in a secure area until the collection takes place.
If you are using a skip for building work or rubbish removal, try to fill it and remove it on the same day. If not, ask the skip hire company for a skip with a lockable lid and position the skip at least six metres from your home.
"We also need support from the community to report any suspected arsonists. Calls are treated with the utmost of confidence and should be made to Crimestoppers on 0800 555 111."
Other campaign activities include posters, leaflets, radio advertising, competition, website and the use of social media. A programme of activities are also being held for young people over Easter.
For further information, visit our Arson Prevention webpage or join us on Facebook or Twitter.