Cleveland Fire Brigade is urging smokers to set themselves a challenge to quit on this year's No Smoking Day which takes place on Wednesday 14 March 2012.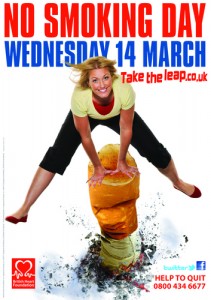 Firefighters will be out in force on the day speaking to shoppers at Asda in Hartlepool and on Stockton High Street as well as to schoolchildren at Newcomen Primary School in Redcar and Beechwood Primary School in Middlesbrough. The Brigade will be taking its Multi-Use Games Arena (MUGA) to the schools where pupils will be able to take part in various sporting activities whilst learning about the dangers of smoking. It is hoped this will deter them from starting the habit when older and prompt them to discourage their parents.
Phil Lancaster, Director of Community Protection said, "Households with a smoker are almost one and a half times more likely to suffer a fire than non-smoking households. Apart from this increase in risk of fire, smoking has been linked to causing blindness, lung cancer, heart disease and chronic obstructive pulmonary disease (COPD) to name a few. This is why I would urge anyone who smokes to quit."
Nationally, a third of all fire deaths in the home are caused by smoking materials. From 1 April 2011 to 29 February 2012, 28% of all accidental fires in Teesside were caused by smoking materials. These could have been avoided if more care had been taken or more importantly if people weren't smoking in the first place.
For those who are not yet ready to kick the habit, follow the safety tips below:  
Stub cigarettes out properly and dispose of them carefully. Put them out. Right out!

Use a proper ashtray – never a wastepaper basket

Make sure your ashtray can't tip over and is made of material that won't burn

Take extra care when you're tired, have been drinking alcohol or taking medication that can make you drowsy. It's very easy to fall asleep without realising your cigarette is still burning.

Empty ashtrays frequently – wet the contents before emptying them into a metal bin outside the home.

Keep all matches and lighters out of the reach of children. Use only one lighter/box of matches at a time so you will notice straight away if it goes missing. Where possible buy child-resistant lighters and matchboxes.

Never leave lit cigarettes, cigars or pipes unattended – they can easily overbalance, land on a carpet or newspaper and start a fire.

Never smoke in bed – if you need to lie down, don't light up. You could doze off and set your bed on fire.

Never tip ash into a wastebasket.
With help on quitting smoking please log onto:
www.nosmokingday.org.uk
www.wequit.co.uk
www.smokefree.nhs.uk
Cleveland Fire Brigade offers residents a free Home Fire Safety Visit, where firefighters will come to your home and give valuable safety advice and help make an escape plan which will be tailored to you and your family's needs. Free smoke alarms will be supplied and fitted if needed. Call us on 01429 874063 to arrange a visit at your convenience.
You can also visit our website at www.clevelandfire.gov.uk to view more safety advice as well as our news and details of events happening throughout the Brigade. You can also follow us on Facebook or Twitter.