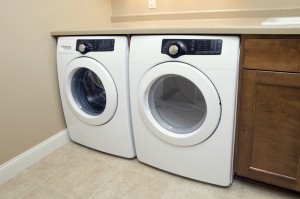 TUMBLE dryers and other kitchen appliances can cause fires if not treated properly.
That's the warning from Cleveland Fire Brigade as part of Electrical Safety Week from 23rd to 29th January.
Over the past three years, there have been 23 fires throughout the area involving tumble dryers, including four in 2011.
The Brigade has joined forces with Government fire safety campaign Fire Kills and the Electrical Safety Council to issue some simple guidelines to warn people of the dangers of not using tumble dryers and other kitchen appliances properly.
Tumble dryers, washing machines and dish washers have powerful motors with fast moving parts that get very hot. If users don't clean and maintain their machines regularly and properly, excess fluff or lint can build up over time and catch fire.
Les Jones, Head of Community Safety with Cleveland Fire Brigade, said: "When people think of a typical house fire, tumble dryers may not immediately come to mind. However, such powerful machines can have potentially dangerous consequences if not looked after properly.
"Regular cleaning removes fluff and lint, reducing the risk of fire. Clean the filter after use and never leave your dryer, washing machine or dishwasher running unattended whilst out or overnight. Follow our safety tips to stay safe."
The safety checklist is:
• Always read and follow the manufacturer's instructions before using your dryer.
• Never leave your appliance unattended or running overnight.
• Never overload your dryer or put items in that have been used to soak up flammable liquids.
• Keep it well ventilated ensuring the vent pipe is kink-free, not blocked or crushed in any way.
• Clean the filter in your dryer after every use.
• Have it serviced regularly by a qualified engineer.
• DON'T ignore the warning signs – Does your tumble dryer smell of burning? Are your clothes taking longer to dry? Do the clothes feel hotter at the end of the cycle? Does the external vent flap stay shut when the dryer is on?
• If you notice any of the above, clean the filter and check the vent pipe immediately.
For more safety advice about your tumble dryer click here or follow us on Twitter or Facebook.
Remember we offer all residents a free Home Fire Safety Visit, where firefighters will come to your home and give valuable safety advice and help make an escape plan which will be tailored to you and your family's needs. Free smoke alarms will be supplied and fitted if needed. Call us on 01429 874063 to arrange a visit at your convenience.