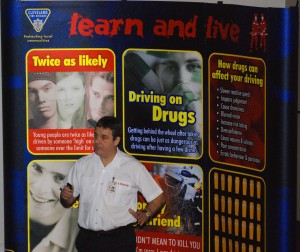 YOUNG people at colleges across Teesside have been the focus of a hard-hitting campaign by the emergency services to help prevent fatalities on the roads.
Over the past few weeks a total of 2,460 students – many of whom are young drivers – have taken part in 'Learn and Live' roadshows run by Cleveland Fire Brigade in partnership with Cleveland Police, the North East Ambulance Service and volunteers from the local community.
The initiative is aimed at stopping young people being killed or injured in accidents on the roads, with particular emphasis on crashes caused by young drivers. Such incidents are often due to excessive speed, dangerous overtaking, drink and drugs, not wearing seat belts and driving whilst distracted by things like mobile phones.
The roadshows feature personal accounts from the emergency services and road safety professionals as well as from people whose lives have been devastated by losing a loved-one in a fatal collision.
They have visited Hartlepool College, Stockton Riverside College, Middlesbrough College and Redcar and Cleveland College and were also invited to deliver a session to employees of Billingham firm Fujifilm, targeting drivers at work. 
Steve Walton, Redcar District Manager at Cleveland Fire Brigade, said: "This is the sixth year that the Learn and Live roadshows have been delivered to what still remains the most vulnerable group of road users.
"Despite significant progress – which has seen fatalities in the 16-24 age group fall from ten in 2004 to none during 2008 to 2010 – sadly 2011 has seen the deaths on Teesside of two young people who were travelling in a vehicle with a teenage driver.
"We make no apology for the fact that our presentations are hard hitting and highlight the consequences of road traffic collisions. We remain absolutely committed to making our roads safer for all types of road user.
"We would like to thank the colleges across Teesside for supporting this initiative and giving us the opportunity to reach so many young people."