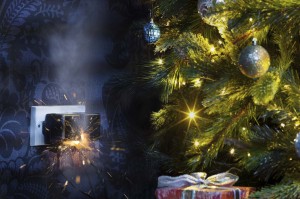 Electrical appliances have become a staple of modern life – from fridges and phones to toasters or the TV, it's hard to think how we'd get by without a few electrically powered equipment. These essentials could however be the cause of a tragedy if not maintained.
Fires in the home can be caused by faulty wiring in plugs and electrical appliances, electrical equipment not being used safety or by sockets being overloaded. These fires could be preventable by making a few simple checks and taking precautions.
Particularly with the colder weather and festive season upon us, more tumble dryers will be used and Christmas lights going up which if not used properly could increase the risk of fire and could spoil the celebrations.
Phil Lancaster, Director of Community Protection said: "By keeping electrical items in good working order it reduces the risk of fire, particularly ones that run at high speeds and contain motors, like washing machines, should be serviced once a year by a qualified electrician. It is also vital that items such as laptops and hair straighteners are unplugged whilst not in use as the heat they generate could start a fire.
"By following some simple steps, you can help keep yourself and your family safe from fire:                   
Don't overload plug sockets
Regularly check for worn or frayed wires
Unplug appliances when not in use
Keep appliances clean and in good working order
Portable electric devices i.e. laptops/hair straighteners should be placed on a well-ventilated surface and never left on beds or sofas
Consider using a Residual Current Device (which protects against electric shocks and reduces the risk of electrical fires)
He added, "We also advise that heaters be kept clear from curtains and furniture and should never be used for drying clothes. If you use an electric blanket, unplug it before you go to bed unless it has a thermostat for safe all-night use."