A warning has gone out to residents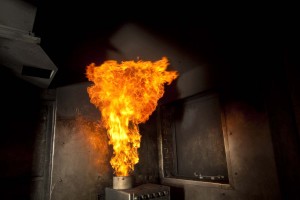 across Cleveland urging them not to leave their cooking in the kitchen unattended. The safety message is part of Cleveland Fire Brigade's 'Stay Safe and Celebrate' campaign which runs until Christmas.
Around 60% of accidental house fires start in the kitchen but many could be avoided if people were more safety conscious, according to Phil Lancaster, Director of Community Protection with Cleveland Fire Brigade.
"At this time of the year people will be spending more time in the kitchen cooking festive meals and entertaining family and friends and all we are asking is that they follow some simple tips to keep everyone safe.
"The kitchen is the most hazardous room in the house in terms of fire and we want people to remember Christmas 2011 for all of the right reasons," said Mr Lancaster.
The tips are as follows:
Take pans off the heat and turn off the hob and/or grill if you have to leave the kitchen while cooking.
Ensure saucepan handles don't stick out so they don't get knocked off.
Keep handles of pans turned to the back of the hob and away from other gas burners/electric rings.
Never leave children alone in the kitchen and fit a child safety catch to the oven door.
Don't wear loose clothing when cooking as it can easily catch fire.
Use a spark device to light gas cookers as this is safer than using matches or lighters.
Keep tea towels and cloths away from your cooker and hob.
Make sure the oven, hob and grill is turned off when you have finished cooking.
Clean your grill pan every time you use it.
For further information on safety in the home, visit our interactive house – where you can click on to an interactive house and get further advice.
The 'Stay Safe and Celebrate' campaign involves firefighters and Brigade personnel getting out into the community to spread their safety messages plus posters, leaflets, a Christmas card competition for schools, liaising closely with the media and the use of social networking sites where there is advice and videos. 
To help keep you and your family safe from fire, the Brigade provides free Home Fire Safety Visits and will fit smoke alarms if needed. Call us on 01429 874063 to arrange a visit to your home and you will receive specific fire safety advice for you and your family.
For further safety information, join us on Facebook or Twitter.