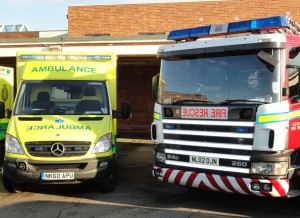 A partnership between Cleveland Fire Brigade and the North East Ambulance Service (NEAS) continues to be successful, ensuring the quickest response to patients in East Cleveland.
Since the co-responder scheme started in 2004, the Brigade has assisted the ambulance service by attending over 1800 emergency incidents. The Brigade has mobilised 550 calls this year alone, making 2011 its busiest year to date.
Due to the location of the Brigade's fire stations, fire crews are able to support the emergency ambulance service for patients that are suffering from potentially life threatening signs and symptoms such as breathing difficulties and chest pains. The fire crews can provide essential first aid before the ambulance crews take over.
This has proved particularly valuable during the extreme winter conditions experienced over the last two years which have made progress by road hazardous.
Elaine Bennington, Operations Manager for the Tees Division of the North East Ambulance Service said: "Whilst the North East Ambulance Service continues to develop and extend its own resources to continually improve the service to the patients of East Cleveland, additional resources are always welcome."
Research has shown that if a cardiac arrest victim is defibrillated immediately, their chance of survival can be as high as 85%, these odds decrease by 10% with every minute that passes without treatment.
Steve Walton, Redcar District Manager, said: "All of our fire engines carry a defibrillator which is used to shock a heart that has stopped pumping blood effectively. We also have 4×4 vehicles at Saltburn and Guisborough which can proceed to calls in challenging driving environments.
"All Cleveland Fire Brigade firefighters are also trained to perform cardio pulmonary resuscitation (CPR) and carry oxygen therapy equipment which can be used to support the patients until a paramedic arrives.
"All members of the public can be taught lifesaving skills which could form a vital link in the chain of survival. Cleveland Fire Brigade will deliver this free training on request."