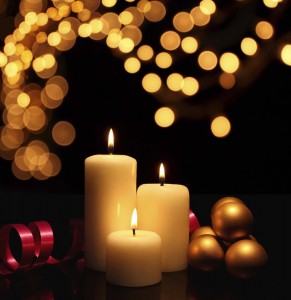 Cleveland Fire Brigade is urging residents to use candles with care throughout this festive period. This a part of the Brigade's Stay Safe and Celebrate campaign running over the festive season to raise awareness of common causes of house fires.
Over the past year 7% of accidental fires across Cleveland were caused by candles. They are very popular at this time, with several types available to buy, but they can be dangerous if used incorrectly.
Les Jones, Head of Community Safety said: "Candles are a typical sight in many homes, scenting our rooms and giving an atmospheric glow to cold winter nights. But it's important to remember that a candle is not just another piece of furniture. Left unattended, an open flame scenting your home could leave a trail of devastation.
"Over fifty fires are started by candles every day – make sure you don't join the statistic. Place your lit candles with extra care, away from curtains, pets and children and always remember to put them out when you leave the room, even for a moment.
"Even with these precautions it's vital to be prepared should the worst happen. A working smoke alarm can give you the vital time you need to get out, stay out and call 999. Keep yourself and your loved ones safe by testing your alarm regularly and practice your escape routes." 
To help you use candles safely, follow these top tips:
Never leave candles unattended
Always place in a candleholder on a heat resistant surface
Always light candles away from curtains, furniture and anything else that can catch fire.
Do not move lit candles
Do not keep several burning candles close together
Burn candles in a well-ventilated room
Put candles out with a snuffer or a spoon
For further information on safety in the home, visit the Brigade's website – www.clevelandfire.gov.uk/celebrate – where you can click on to an interactive house and get further advice.
The 'Stay Safe and Celebrate' campaign involves firefighters and Brigade personnel getting out into the community to spread their safety messages plus posters, leaflets, a Christmas card competition for schools, liaising closely with the media and the use of social networking sites where there is advice and videos. 
To help keep you and your family safe from fire, the Brigade provides free Home Fire Safety Visits and will fit smoke alarms if needed. Call us on 01429 874063 to arrange a visit to your home and you will receive specific fire safety advice for you and your family.