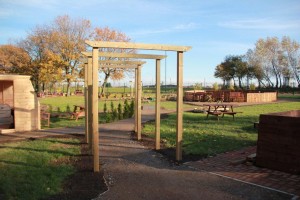 A community garden at Grangetown Fire Station has been created and will be officially unveiled on Friday 18 November.
Chief Fire Officer, Ian Hayton will officially open the garden with Frank Sweeney, Retired Grangetown Station Manager, who originally started the project. Children from Grangetown Primary School will also be attending.
Cleveland Fire Brigade worked with children and teachers from Grangetown Primary School, to develop a community garden which will be maintained and used by the schoolchildren and other members of the community for planting and growing produce. Funding was secured from various sources including Impetus Environmental Trust. The initial work has been carried out by the Dig-It Project, a local company renowned for delivering this type of garden in schools.
Chief Fire Officer, Ian Hayton said "We have had great support from local businesses to make this project a reality. Equally, the children and teachers at Grangetown Primary School and our firefighters have pulled out all the stops, working in their own time to complete the project and provide the local community with an innovative garden facility. I hope the young people and the local communities who use the 'Grow 'n' Learn' Garden are happy with the results and find it a really rewarding experience to be involved in."
"By forging strong links with the local community through the 'Grow 'n' Learn' Garden project, we hope to provide positive role models to young people, and hopefully divert them to more constructive activities in the future."
He added "Cleveland Fire Brigade is involved in a number of innovative projects to engage with young people and encourage a sense of pride in the community. These types of project are seen as a key part of the role we play to protect our communities. Although many people might still view the Fire Service as only providing an 'emergency response' service, our firefighters have increasingly worked to protect people by prevention and protection measures.
Bobby Jameson, Head Teacher of Grangetown Primary School said: "The Fire Brigade staff and I have managed to secure a large grant and the groundwork has been developed into an exciting and innovative garden area which I'm sure our children are going to have great fun working in. Mrs Leadley, our Teaching Assistant who runs a gardening club in school and I attended a meeting recently at the fire station and were very impressed with the developments to the garden area.
"Visits from all year groups will also begin again in the Spring when the weather is better. The school will be taking as many children as possible to the opening and I'm sure it will be a great day.
"We cannot thank Frank Sweeney, retired Grangetown Fire Station Manager, enough for all he did to set this scheme in motion. It was his dream and he has made it all happen. I would also like to thank Cleveland Fire Brigade staff Denise Lee and Jimmy Ruse for their continuing help with the project. The children of Grangetown Primary will be eternally grateful for this wonderful resource."