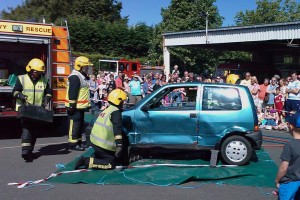 Young people, their families and members of the general public are being invited to take part in a fun day at Stockton Fire Station, South Road, Norton on Sunday 18 September.
The aim of the day is to help strengthen the already good relations with residents and showcase some of the work Cleveland Fire Brigade undertakes throughout the area.
The community event will take place between 11.00am and 3.00pm and will have activities including a road traffic collision display, tombola, games, demonstrations and the Middlesbrough Health Bus will also be there. Children will also have the opportunity to have a go on the fire engines and meet their local Firefighters.
View directions and information about Stockton Fire Station here.
Davey Veitch, who has organised the event, said: "This is a great chance to throw open the doors of our fire station and show people the work we do across the community with our partners outside the stereotypical view that people have of the Fire Service.
"People are genuinely surprised and very supportive when they see the vast amount of work that goes into keeping communities safe and, in the process, we get to meet the public and have some fun. It's a real family event and the youngsters, in particular, love it. And it's free!!"