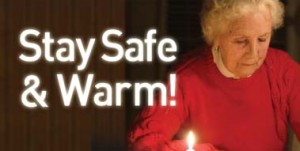 THE largest-ever campaign to help people across Teesside to stay safe and warm in their homes during the cold weather will be launched next week.
Over 25,000 people in the UK die each year because they can't keep warm in their own homes. This is due to either faulty heating or because worries about the cost of fuel force them to turn their heating off or down to unsafe levels or because they use cheaper and less safe forms of heating which can cause fires.
Many of these people are in the most vulnerable groups, such as older people, single parents with children, people with disabilities or mental health issues and those with a long-term illness.
'Stay Safe & Warm' will be launched at The James Cook University Hospital, Marton Road, Middlesbrough, on Monday 3 October at 10am in The Atrium (South Entrance).
Led by Cleveland Fire Brigade, the annual campaign aims to raise awareness of the dangers faced by people who struggle to keep warm during the cold months and to highlight the help and support available to them.
The other partners in the project are the Teeswide Safeguarding Vulnerable Adults Board and its members Cleveland Police, North East Ambulance Service, Age UK Teesside, Cleveland Fire Support Network, North Tees and South Tees Hospitals NHS Foundation Trusts, NHS Tees, Tees, Esk and Wear Valleys NHS Foundation Trust, Durham Tees Valley Probation Service, Victim Support and the Hartlepool, Middlesbrough, Stockton and Redcar and Cleveland Councils.
They will work together to identify people who are at risk and give them advice and support. This could range from organising safe, temporary heating to putting people in touch with specialist guidance on managing their fuel bills. Last year, almost 400 people received help.
In an important addition to this year's campaign, all Teesside's hospitals will enquire about a person's home heating arrangements as part of the assessment process when the person enters hospital.
When anyone is identified as being at risk, the Fire Brigade and its partners will work with the patient's family, carer or others to tackle the heating issues before the patient is released from hospital.
Anyone who is worried that they may not be able to heat their home properly or is concerned about a family member, friend or neighbour, should call the Fire Brigade on 01429 874063. More information is also available at www.clevelandfire.gov.uk/warm
As well as Monday's launch event at The James Cook University Hospital from 10am-12 noon, there are also other drop-in events next week at which members of the public can find out more:
Tuesday 4 October            –           University Hospital of North Tees in Hardwick Road, Stockton, from 10am to 12 noon.
Wednesday 5 October      –           University Hospital of Hartlepool in Holdforth Road, from 10am-12 noon.
Thursday 6 October          –           Redcar Primary Care Hospital in West Dyke Road, from 10am to 12 noon.
Friday 7 October                 –           Roseberry Park mental health and learning disability centre in Marton Road, Middlesbrough, from 10am to 12 noon.
Les Jones, Cleveland Fire Brigade's Head of Community Safety, said: "Being able to keep warm at home during cold weather can literally be a matter of life or death.
"Our aim is to identify those people who may be at risk and to take swift action to keep them safe.
"If you, a relative or a friend are finding it difficult to keep warm, please don't delay – contact us straight away."
Mick Walker, Business Manager of the Teeswide Safeguarding Vulnerable Adults Board, added: "All partners of the Board are working together to support this worthwhile initiative to help protect some of the most vulnerable, often isolated members of our community and keep them safe and warm during the cold months."