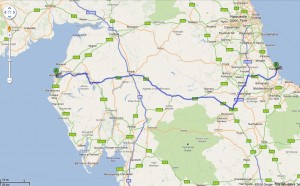 Two women from Cleveland Fire Brigade have set themselves a challenge of running 125 miles Coast to Coast from Workington to Hartlepool Marina from 9th-13th September.
Emma Rushforth, the Brigade's Diversionary Activities Manager and Firefighter Rebecca Johnson (based at Hartlepool's Stranton Station) are undertaking this challenge to raise funds for the Fire Fighters Charity which supports all fire service personnel during their times of need, and assists thousands of individuals every year by providing pioneering treatment and support services.
So far they have raised nearly £1000 and have also had refreshments donated to them for the journey from local businesses, as well as £100 donated from Emerson Property Services who are their main sponsor. Building company G.J Services is also sponsoring them £1 per mile.
Their plan is to drive to Workington on the West Coast on Friday 9 September where they will start the run and aim for 22 miles arriving in Keswick. The following morning they will leave Keswick for Melmerby which clocks up another 26 miles. On the Sunday they will go from Memberley to Middleton in Teesdale which is 33 miles, then on the Monday they will head to Sedgefield which is another 30 miles. On the final part of their journey, they will leave Sedgefield for Hartlepool Marina which is 14 miles and cross the finish line at approximately midday on Tuesday 13 September.
Chris Russell, who is a Personal Trainer and gym instructor at Activ8, Stockton Borough Council will be cycling the distance with them and Asim Sinharoy, a Brigade Analyst will be driving the support vehicle, transporting refreshments and equipment to each location.
Emma Rushforth, Diversionary Activities Manager said: "After taking part in a charity Coast to Coast cycling event in 2009, I found I wasn't a natural cyclist and that I actually enjoyed the section of it I ended up running whilst carrying my bike on my back following a puncture. This gave me the idea to run the entire distance instead.
"I started to train over a year ago for it and in that time Firefighter Becci Johnson has also bravely decided to join me. We have decided to do this challenge on behalf of The Fire Fighters Charity to raise awareness of its work, as well as funds as they provide such invaluable help and assistance to fire service personnel and their families up and down the Country."
If anyone would like to sponsor Emma and Becci, you can do so by visiting: