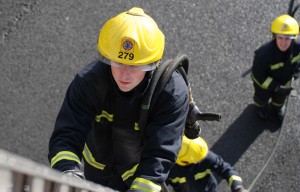 Cleveland Fire Brigade is recruiting part-time Firefighters to join crews at Headland, Skelton, Yarm, Saltburn, Guisborough and Loftus Fire Station's.
Open Days are being held for those who would like more information on becoming a part-time Firefighter, as well as assistance in completing applications.
gfdsfd
The Open Days are taking place between 12pm and 8pm on:
Monday 5 September at Yarm Fire Station, Thirsk Road, Yarm
Wednesday 7 September at Loftus Fire Station, Coronation Road, Loftus
Thursday 8 September at Skelton Fire Station, High Street, Stockton
Tuesday 13 September at Headland Fire Station, Durham Street, Hartlepool
Wednesday 14 September at Guisborough Fire Station, Park Lane, Guisborough
Thursday 15 September at Saltburn Fire Station, Leven Street, Saltburn
If you would like to be a part-time Firefighter you must live within five minutes travel from the fire station you will be based at and the job involves a number of hours where you must be available for call outs via a pager.
You could earn between £5,400 and £8,900 per year depending which station you are based at.
District Manager Steve Walton said: "We are looking for people who want to help and protect their local communities. We are holding several Open Days so anyone who is interested in joining the service as a part-time Firefighter can get more information and ask us any questions. We will also have packs available containing more detailed information on the recruitment and selection process.
"As a part-time Firefighter, you will be provided with a high level of training and a chance to be part of a professional team"
Lynne Storey, Head of HR said: "Firefighting is a job which can be done by anyone who has the right skills and attributes and we encourage women and other people from minority groups to join. We currently have 20 female Firefighters in the Brigade, 17 full-time and 3 part-time who have integrated well and enjoy their jobs and the challenges it brings.
"Part-time firefighting can be for anyone, it could be the ideal job for a parent who needs flexible working hours, someone with some spare time or is unemployed or even someone in full-time employment."
If you would like any further information about becoming a part-time Firefighter visit our website at www.clevelandfire.gov.uk/retained. You can also contact us on 01429 874021 or at recruitment@clevelandfire.gov.uk.